IceInSpace AstroCamp, 24th - 26th April 2014
The IceInSpace AstroCamp (IISAC) at Lostock, now in its 8th year, is back again!
IISAC2014 is a star party organised by the IceInSpace community and held over 3 nights, from the 24th to the 27th April 2013, at Lostock Scout Camp in the beautiful Hunter Valley area of NSW. The location was chosen because of its proximity to Sydney, the Central Coast and Newcastle, and at under 4 hours drive from Sydney you'll be amongst clear, very dark skies in a lovely country setting. If you want to see pictures and read reports from the three previous IISAC events, check out the Previous IISAC Events page.
There is bunkbed accomodation for up to 35 people in the two onsite farmhouses, or you can camp out in the large fields which have held over 500 scouts - so space is not a problem! The farmhouses also have a BBQ, full kitchen facilities, 240v power, 10 showers and 10 toilets, fridges and freezers. For off-site accomodation, the Lostock Caravan Park is only 6 km's away on the edge of Lostock Dam.
There'll be plenty to do when it's not dark, with a swimming hole to cool off during the hot summer days, as well as organised talks and workshops to cater for both newcomers and experienced amateur astronomers alike. You can go for leisurely drives through beautiful rolling hills, or a short trip takes you to the popular Hunter Valley wineries area.
The IceInSpace AstroCamp is the no-fuss star party - come to relax, to have fun, to unwind and to meet some of the great, friendly people that make up the wider IceInSpace family. And when it's clear, observe under brilliant dark skies and take home memories you'll cherish forever.
The AstroCamp is not restricted to IceInSpace forum members, it's open to anyone from anywhere! Of course we'd love you to join the forum community and join in the discussions and the fun, and we're very welcoming to newcomers.
Come for one night or stay for all three! We look forward to seeing you there!
Sponsors
A very big thanks to our generous sponsors who have donated prizes to IceInSpace AstroCamp 2014. They are:
Vital Stats
Features of the Site
Exclusive use!
Very dark skies
2 farmhouses with up to 35 bunkbeds in total (bring own linen). Remember, this is a scout camp. The bunkbed accommodation is not 4-star luxury!
Loads of room for camping
Huge observing fields with good open viewing (no trees etc)
Camp where you observe!
Power available on-site for recharging batteries, astrophotography, etc.
Undercover area for meetings/presentations/wet weather etc
The houses have full kitchens (stoves, cutlery, glasses, hot water, fridges and freezers)
Amenities block with 5 showers and 5 toilets for both male and female (remember, this is a scout camp!)
The farm houses also have additional toilets and showers
Swimming hole for cooling off during a hot summer day
Off-site caravan park at Lostock Dam, about 6km's away
Supplies at Gresford, 20km away.

Competitions and Prizes

Click to Enlarge
Bintel GSO RCA-200 f/8 Astrograph


Click to Enlarge
50% off an Argo Navis DTC


Click to Enlarge
Deep-Sky Planner Software

Lucky Door Prizes
Like previous IISAC's, there will be just 3 prizes; 3 lucky winners.
The following prizes are up for grabs, thanks to our generous sponsors.
The Important Competition Rules are set out in the Rules and Conditions section below. Please make sure you read them.
What To Bring!
Following is a list of items we strongly recommend that you bring to the AstroCamp.
You may bring your own chair/picnic table, especially if camping. There will be plastic chairs and trestles tables under the marquee area.
Insect repellant (there will be mosquitoes and flies!)
Toiletries (towel, soap, shampoo, toothbrush etc)
Linen (pillow, sheets, blankets, sleeping bags)
Tent, pegs, etc (if camping)
Drink bottles for water (it will be hot, drink plenty of water)
Hat and sunscreen (it will be hot!)
Swimming costumes, towels (there is a beautiful swimming hole)
It can get quite cold at night, so remember to bring warm clothes for observing or sleeping.
Breakfast, Lunch, Snacks and Dinner. The nearest town for supplies is Gresford, about 25-30 minutes away.
Batteries for powered scopes (240v power will be limited to the area around the farmhouse)
Cardboard box / red screen for your laptop (see Light Use Policy)
Torch with deep red filter (see Light Use Policy)
Garbage Bags. There are no facilities for litter disposal. We will all have to take our rubbish away with us.
Tarps for under your scope (if required)
Tarps/covers for over your scope (if required)
Dew shields/dew heaters (it can get quite dewey)
Wet weather games or DVD's (hopefully they won't be needed!)
If bringing children, please bring enough games and toys to keep them happily busy! :)
Your signed Acknowledgement and Disclaimer form.
Things to Know!
Along with the What to Bring section above, here are a few important things to know if coming to the IceInSpace AstroCamp 2014 at Lostock.
Please come to the bottom house (HQ) when you arrive to collect your info pack, name tag and raffle ticket for the lucky door prize. We will also note down your car registration number for emergency purposes.
The IceInSpace AstroCamp is the no-fuss star party. Come to relax, to have fun, to unwind and to meet some of the great, friendly people that make up the wider IceInSpace family. And when it's clear, observe under brilliant dark skies and take home memories you'll cherish forever. Please don't expect 4-star accommodation or amenities.
The Acknowledgement and Disclaimer form must be signed and handed in when you arrive. This is to protect IceInSpace and the organisers against legal action if someone hurts themselves at the camp. All care is taken, but ultimately you are responsible. Please read the legal waiver now. And remember, it must be signed and handed in if you wish to stay at the camp.
There is no GSM mobile reception at Lostock, however NextG may work from the high areas. There is no landline phone in either farmhouse.
An "info pack" will be distributed when you arrive, containing rules, policies, the agenda, and local tourist information.
There are 2 farmhouses, the bottom house is the HQ and the top house (5 minutes walk) also has facilities and beds. Each farmhouse holds about 18 beds. For those that have booked bunkbed accomodation, it is first-in best dressed when choosing your bunk. If you're bringing a family and wish to all be in the one room, please request this at the time of booking and every effort will be made to accomodate this.
In the case of an emergency (bushfire, etc), please meet at the muster point outside the bottom house - see the field map.
Please be all packed up and be ready to leave the camp by 10am Sunday. We need to leave it how we found it, so please help clean up any mess you make, take your rubbish and leftover food/drinks with you. Volunteers who wish to stay behind and help clean up will be most appreciated.
Daytime Activities, Guest Speakers and Workshops
A number of activities are planned to keep us busy during the day, while still allowing plenty of time to just relax, or go on sight-seeing tours of the Hunter Valley or local surrounds.
Please see the Programme of Events for the day and time that these activities are on.
Guest Speakers
The following guest speakers have agreed to share their time and expertise and give talks at IISAC2014:
Gondwana Telescopes - Touching the Ancient Past, by Alex Massey.

The legacy left by the late John Dobson has given amateur astronomers access to telescope apertures once limited to professional astronomers.

Materials, technology and design development has seen the revolutionary portability of the original dobsonian evolve to ultralight instruments. Gondwana Telescopes is now offering a new take on the ultralight telescope, where portability and stowage is paramount, coupled with the experience gained from travelling with telescopes, developing a design that is focused on protecting the primary mirror. Removable secondary mirror, encoder couplings included as standard, and all the components housed within the one small box plus a set of carbon fibre poles. All Australian designed. All Australian made.


Widefield Nightscape Digital Imaging, by Greg Bradley.

Greg will cover all aspects of nightscape imaging, including the equipment needed, different types of lenses, how to do a mosaic, composition and framing guidelines and how to process a nightscape image.

Greg is 57 years old, a Bachelor of Business and has been an enthusiast in astrophotography for about 8 years now. Having won honourable mentions in the last 3 Malin Awards, and gave a talk at the Australian Astrophotography Imaging Conference last year and again this year, Greg is well placed to share his workflow and advice.

Greg has studied Photoshop extensively and is familiar with the various techniques for different types of images, and has imaged with quite a few different telescopes and mounts and have produced hundreds of astro photos using both DSLRs one shot colour cameras and mono cameras.


The role of mobile devices in amateur astronomy, by Chris Malikoff.

Chris will talk about the meteoric rise in the acceptance and use of mobile devices, and more specifically the modern tablet and smart phone. He'll run through a list of his favourite apps on both iOS and Android platforms, showing how they can be used to help ourselves as well as educate others.

Chris Malikoff is an IT/Systems Development manager for an advertising and publishing workflow software house. He has been in the IT field for over 33 years, the last 20 specialising in publishing. Recently he has been pushing development towards mobile devices as they rapidly gain acceptance at corporate level within the publishing and advertising industries. He has been a keen amateur astronomer for decades, and is currently the president of a very active Sydney-based astronomy club. He is also a very keen street photographer and is thankful that this "sport" is less weather dependent than astrophotography.

Workshops
Basic Collimation, the Human Eye and Observing Tips, by Alex Massey (Friday 4:30pm)
Learn how to collimate newtonians and more. Ideal for beginners!


Astro Sketching Workshop, by Alex Massey (Saturday 11am, main marquee area).
Learn about Astro Sketching using the Mellish technique. The workshop will go for approx 30-45 minutes.
For other help needed or impromptu workshops, a whiteboard located at the bottom house HQ will be used as a "community noticeboard" to get people together. It will be used both for people that need assistance and those that have the expertise to assist.
For those that need help with collimation or polar alignment (for example), they might post a "wanted" notice such as "Bruce needs help collimating a 10" newt. Blue Hyundai Excel on the bottom field" or "Need help with polar alignment. Please meet here this afternoon at 4pm".
For those willing to assist, they can post something like "John happy to help with polar aligning or collimation. Meet here at 4pm or see me at the white toyota hilux at the east end of the field".
Please don't be afraid to ask for help! Most amateur astronomers are happy to help and share their expertise when they can - we all started out by asking heaps of questions!

Vendor Stalls and Swap Meet
Unfortunately due to lack of interest in previous years, there will be no formal vendor stalls. However any attendees, please feel free to bring along any equipment you want to try and sell at the camp. The best time and place will be at the marquee and undercover area at the bottom house, on Friday and Saturday mornings.
You can also leave any notes or messages on the white board or signs listing your equipment for sale and how/where to find you.
IISAC Community Sausage Sizzle
Saturday afternoon at 2:30pm! See below under Food and Beverage for more information.
What's in the Sky at Lostock?
April is a great time to be observing under a dark sky. Wind your planetarium software forward and see what great stuff is on offer! Here is a sample of objects that will be in favourable viewing positions during the IceInSpace AstroCamp 2014.
Mars will be very well positioned to observe all evening, as it rises just before sunset
Crux (the Southern Cross) will be high in the South East
The bulge of the Milky Way rises after 9pm and will be visible all night long
Heaps of deep space objects in the Milky Way and surrounds, including Eta Carinae, M8, M20, globular clusters and more.
Check out the IISAC2014 sky list for some more detail.
Night Sky Tours
Night Sky Tours will be conducted each night from 7:30pm on the lower field. Representatives from the Three Rivers Foundation (3RF) will have a number of large dobsonian telescopes (18" and above) through which you will be able to see amazing galaxies, nebulas, globular clusters and more.
Food and Beverage
On Saturday afternoon, we will be hosting the IISACCSS (IISAC Community Sausage Sizzle)! It's the only excuse you need to come and meet the IceInSpace community, meet new people and make new friends, ask questions and get information, or simply to have a good time and relax in a great atmosphere.
The fry-up will be taking place on Saturday afternoon at around 2:30pm. Bring $2 along for the sausage sizzle and bring your own drinks and snacks. The group photo will take place afterwards.
The bunkhouses have fridges and freezers, as well as a full kitchen, cooking facilities and 2 BBQ's. You are welcome to use the facilities provided and they are available for use by all paid attendees. If you use the cooking facilities (BBQ, Kitchen etc) PLEASE clean up after yourself!
Breakfast, Lunch and Dinner are not catered, and you must make your own arrangements.
I'm sorry, but there will be no catered dinner this year. You will need to make use of the house facilities (microwave, stove, bbq) or have your own arrangements at your camp site (portable stoves etc).
Tea and Coffee will be on-tap, 24 hours a day.
Cans of cold soft-drink will be available for $1 each.
Bottled Water will be available for $1 each.
Tube iceblocks will be available for 40c each or 3 for $1.
The nearest shops for restocking and supplies are in Gresford, which is about a 25-30 minute drive from the camp.
IISAC2014 T-Shirts
IISAC2014 T-shirts are available for order through the IceInSpace Shop. They will need to be added to your cart separately from your camp booking. If you're not attending the camp but still wish to purchase an IISAC2014 t-shirt, please order through the IceInSpace Shop.
The shirts are available in the following sizes:
Adult sizes: S (w:46cm/l:71cm) , M (w:51/l:73cm) , L (w:56cm/l:76cm) , XL (w:61cm/l:79cm), XXL (w:66cm/l:81cm) , XXXL (very very big shirt- w:71cm/l:86cm)
Kids sizes: XS (w:41cm/l:51cm)
Prices
The shirts will be available for collection at IISAC2014.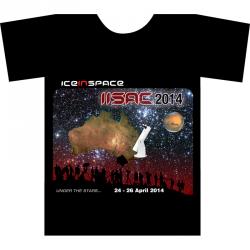 Click to Enlarge
IISAC2014 t-shirt


Prices and Booking
Book early! Bunkbed accommodation is limited, so be fast to secure your spot. On the booking form, you'll choose your option of bunkbed, camping or off-site accommodation.
Click on the button below to open the registration form and book your place!

Participants who have made a booking and paid their money are eligible for the lucky door prize competition.
Book and pay early (on or before the 1st March 2014) to receive an early-bird discount ($15 off the total price). Use the coupon code IISAC-EARLYBIRD.

REGISTRATION COSTS
| | |
| --- | --- |
| Adult | $85 |
| Child (13 years and under) | $15 |
| Family (2 adults & 1 or more children) | $170 |
ACCOMMODATION COSTS
| | |
| --- | --- |
| Camping | $15 per camp-site per night |
| Bunkbed | $10 per person per night |
| Off-site | $N/A per night |
OPTIONAL EXTRAS
| | |
| --- | --- |
| Dinner | Unfortunately dinner must be self-catered this year. There are kitchens and BBQ's for use by guests. Saturday afternoon sausage sizzle only $2. |
| IISAC2014 T-Shirts | $20 all sizes |
| Early-Bird Payment Discount | $15 off the total cost (if paid on or before 1st March 2014, and the coupon code IISAC-EARLYBIRD is used) |
Testimonials
Here's what a few people had to say after previous IISAC's:
"IISAC 2013 ....... AWESOME Big thank you to Mike for organising the event, it was put together very well and I found the three days and nights to be very pleasant. This was my first ever star party and I have to say I was a little nervous coming along, especially with not knowing anyone. Upon arriving I was made feel very welcome by everyone and settle in straight away. I will definitely be returning next year and cant wait to see everyone again."
I love the casual nature of the camp! I can't wait for the next one!"
"This is a relaxed and easy going astro amp. Great for families and beginners."
"Having attended this event on all three occasions it has been held, I heartily recommend that the amateur astronomy community get behind this event. There is wonderful sense of community, and all levels of knowledge and ability are welcome and enjoy the event. When the skies are clear, they are superb, with many objects taking on stunning detail, even in modest apertures. This is also a place that the whole family will enjoy, with a beautiful natural environment and natural swimming hole which will keep the kids entertained for hours. The organisers deserve congratulations for the care and planning that go into making this event such a success."
"This is my 4th IISAC and I'll continue to return as long as they are held. The organisers do a terrific job in making the stay as relaxed and enjoyable as possible. The location is great for family with kids and the atmosphere is easy going and fuss free. The amenities are more than adequate and the meals provided are just spot on.
If your new to astronomy, then IISAC is a fantastic introduction to meeting people, equipment and the hobby in general. You don't need to be an expert in the astronomy nor do you even need to bring a scope to enjoy the wonders of the night sky. I would like to thank Mike Salway and the volunteers for an event that gets better and better each year."
"An absolutely fantastic star party. To Mike and the other organisers, the speakers, sponsors and the volunteers from Greford RFB my hat goes off to you for so generously giving your time, astro goodies, knowledge and help to make the event a complete success."
"Having never been to a IISAC before and knowing absolutely nothing about Astronomy, I was thrilled with the standard of knowledge & the willingness to share it. The members were a pleasure to be with.And, it was fantastic value. My congratulations."
"This is one star-party that I don't want to miss and the one that I enjoy myself at the most."
"A great place to mix with amateur astronomers of all levels in a friendly environment. Highly recommended."
"A terrific experience for all the family! Saw fantastic objects in the sky you could never hope to see in Sydney!"
"An awesome event. A great chance to meet like-minded people under dark skys and a credit to Mike and the team. Great work!"
"Well run, great people, friendly atmosphere top event."
"IISAC is a great informal event at a pretty campsite, run by people who are passionate about their hobby. Heaps to learn and enjoy, about stargazing, hearty dinners and a great creek side location to chill out in the daytime."
"Would recommend this camp to newbies in astronomy as there are lots of talented people happy to share their knowledge with you."
"Fantastic event as always, good crowd and great people. Sadly I was away for the 2008 lucky door prize & my name got called out 2nd! Defintely going back again next year."
"My guests loved the 2 hour 'window' where they gazed at Jupter and some of its moons for the very first time in ther lives! Also, they gazed at the milkyway and the shooting stars that could be plainly seen!"
"It was great to attend IISAC 2008, in spite of the clouds it was great to meet and network with the people I have come to know on the forum."
"The best river swim in history."
Rules and Conditions
General
IceInSpace and the organisers of the AstroCamp accept no responsibility for the safety or security of your posessions while at the Astronomy Camp.
Please supervise all young children, as there will be expensive telescope equipment that the owners won't want knocked over.
No pets are permitted. I'm sorry there are no exceptions to this.
When driving, be aware of local wildlife and drive slowly and carefully. The last 20km's into Lostock is narrow and winding and you never know what's around the corner.
The road into Lostock is narrow and winding. When driving, please be careful and take your time, especially in the wet or dark.
It is a condition of entry that you sign and hand in the Acknowledgement and Disclaimer form when you arrive.
All times specified on this page are in AEST (not daylight savings time).
Swimming Hole Rules
The swimming hole is there for us to enjoy, however you choose to use it at your own risk. By signing the disclaimer form, you waive any right to bring action against the IISAC organisers or any volunteers for any injury sustained while using the swimming hole.
The swimming hole will be open from 9am-11:30am and 1:30pm-5:30pm each day. It is not to be used outside these hours.
Volunteer "lifeguards" will be present during open hours to ensure safe play.
Parents must supervise their children while using the swimming hole. If a child is seen in the swimming hole without their parent present, the child will be asked to leave the swimming area.
Registration Payment
Payment can be made in 1 of 3 ways, as outlined below:

Cheque/Money Order - made out to "IceInSpace". The address to send it to will be displayed upon completion of your registration.
Direct Deposit - bank/account details will be displayed upon completion of your registration.
Paypal - A paypal payment link will be displayed upon completion of your registration.

Please arrange payment of your registration fee as early as possible so numbers can be confirmed for catering and insurance. Payment of your fees on or before 1st March 2014 and use of the coupon code IISAC-EARLYBIRD entitles you to receive an early-bird discount ($15 off the total price).
Cancellation of your registration may incur cancellation fees (see below).
Cancellation Fees
I understand that circumstances beyond your control may mean you can't make the camp. If you have booked and it turns out you can't make it after all, please cancel as early as possible. You will receive a 100% refund, less $20 cancellation fee.
If you simply don't turn up at the camp, there will be no refund given.
Lucky Door Prize Rules
Everyone who has a fully paid-up booking (whether staying on-site or off-site) will receive a raffle ticket for the lucky door prize when they arrive. That is, each person on your booking will receive a raffle ticket.
If you turn up on the day without making a booking, you can still be eligible for the draw if you pay when you arrive and sign the Acknowledgement and Disclaimer form.
You are only eligible for the draw if you have signed and handed in the Acknowledgement and Disclaimer form.
You (or your ticket) must be present at the draw to claim the prize. If the prize is not claimed within 2 minutes, a new ticket will be drawn.
TBA will be drawing the tickets out of the hat.
Each ticket that is drawn (in order) will get their choice of the (remaining) prizes on offer, until all prizes are won.
The competition will begin at 4:30pm on Saturday the 26th April 2014.
The prize may not be converted to cash.
Location Photos
Here are some pictures of previous IISAC events, so you can get a feel for what it will be like to be there for this years IISAC event!
IISAC2013 Images

Click to Enlarge
IISAC2013 Group Shot


Click to Enlarge
Down the mirror


Click to Enlarge
Door Prize Winner


Click to Enlarge
Deano's daughter


Click to Enlarge
Drone


Click to Enlarge
Guy setting up


Click to Enlarge
Setup


Click to Enlarge
Tinkering


Click to Enlarge
Big dobs in the field


Click to Enlarge
Big dobs in the field


Click to Enlarge
Al Sheehan and his timelapse camera


Click to Enlarge
Anthony flying the drone


Click to Enlarge
Solar viewing


Click to Enlarge
Field


Click to Enlarge
Guest speakers


Click to Enlarge
Nightscape image - by Mike Salway


Click to Enlarge
Nightscape image - by Mike Salway


Click to Enlarge
Nightscape image - by Mike Salway


Click to Enlarge
Nightscape image - by Mike Salway


Click to Enlarge
Door prize winner with Gary Kopff


Click to Enlarge
Nightscape image - by Mike Salway

IISAC2011 Photos

Click to Enlarge
IISAC2011 Group Shot


Click to Enlarge
Chris Malikoff running the IISAC Cafe!


Click to Enlarge
Fred.. what more needs to be said!


Click to Enlarge
ASA 8 inch


Click to Enlarge
Tent under the stars


Click to Enlarge
Solar viewing


Click to Enlarge
Remote control aircraft, daytime fun!


Click to Enlarge
Scope on the field


Click to Enlarge
John Bambury and 3RF Dob


Click to Enlarge
Chris and Fred tinkering with timelapse setup


Click to Enlarge
Scopes on the field


Click to Enlarge
Sketching workshop


Click to Enlarge
Scope on the field


Click to Enlarge
Mike Salway and Al Sheehan


Click to Enlarge
View from up on the mountain


Click to Enlarge
Passing the time on a cloudy night


Click to Enlarge
Discussing the night before?


Click to Enlarge
Mozzies down by the creek


Click to Enlarge
Field view


Click to Enlarge
Field view


Click to Enlarge
By the marquee


Click to Enlarge
Finding the Way Home


Click to Enlarge
Staying for the Night


Click to Enlarge
Southern Reflections on Lake IISAC

IISAC2010 Photos

Click to Enlarge
IISAC2010 Group Photo


Click to Enlarge
Setting up for the clear skies


Click to Enlarge
Southern Star Trails


Click to Enlarge
Astrograph


Click to Enlarge
Fred Watson preparing for his sing-a-long


Click to Enlarge
Fred Watson's talk


Click to Enlarge
Gary Kopff demonstrating the Argo Navis


Click to Enlarge
Mine's bigger than yours?


Click to Enlarge
Rod and family enjoying the talk


Click to Enlarge
Houghy's car boot sale


Click to Enlarge
Chris Lidman's talk


Click to Enlarge
Norm's son won first prize


Click to Enlarge
Signs of affection


Click to Enlarge
Fred's talk


Click to Enlarge
Greg coming back from the water hole


Click to Enlarge
Fun with light painting


Click to Enlarge
The ghostly ghastly old man Vanderhaven


Click to Enlarge
Monte and Mark


Click to Enlarge
The new Atlas mount


Click to Enlarge
Mike


Click to Enlarge
More affection from big Mike


Click to Enlarge
Phil Hart in thought


Click to Enlarge
Only a mother could love

IISAC2009 Photos

Click to Enlarge
IISAC2009 Group Shot


Click to Enlarge
Milky Way For Sale


Click to Enlarge
IISAC Light Painting


Click to Enlarge
Convincing the Telescope


Click to Enlarge
Ready for the night


Click to Enlarge
Preparing


Click to Enlarge
Mountain views


Click to Enlarge
The landing strip


Click to Enlarge
The kids gang


Click to Enlarge
Beautiful weather above the camp


Click to Enlarge
The creek


Click to Enlarge
Early morning fog


Click to Enlarge
From the nearby mountain


Click to Enlarge
IISAC Astronomers Ahead


Click to Enlarge
Mike 'chopper' Sidonio


Click to Enlarge
Mike Salway


Click to Enlarge
Prof Geraint Lewis


Click to Enlarge
Star Trails and Light Painting

IISAC2008 Photos

Click to Enlarge
IISAC2008 Groupshot


Click to Enlarge
IISAC in Red


Click to Enlarge
Field shot at night


Click to Enlarge
Field shot pano


Click to Enlarge
Collimation


Click to Enlarge
Mike on Halloween :)


Click to Enlarge
Imaging Hill


Click to Enlarge
Final morning


Click to Enlarge
Swimming Hole


Click to Enlarge
Lazing around


Click to Enlarge
Marquee and Talks


Click to Enlarge
Chris Omaroo


Click to Enlarge
Private Property


Click to Enlarge
Gresford RFB cooking the meal


Click to Enlarge
Scopes

IISAC2007 Photos

Click to Enlarge
Comet McNaught and IISAC Groupshot


Click to Enlarge
Some of the 3RF big dobs in the field


Click to Enlarge
The three amigoes, happy to be at IISAC


Click to Enlarge
Groupshot from IISAC2007


Click to Enlarge
Panorama from near the top of the property


Click to Enlarge
More field/camping shots


Click to Enlarge
More field/camping shots


Click to Enlarge
Lizz and Mariah enjoying the waterhole


Click to Enlarge
Transfixed on Comet McNaught!


Click to Enlarge
Panorama of the waterhole

IISAC2006 Photos

Click to Enlarge
Anthony Wesley's 13" scope


Click to Enlarge
Gary Kopff and Andrew Murrell with "Hector"


Click to Enlarge
Anthony Wesley giving his talk


Click to Enlarge
The bottom farmhouse


Click to Enlarge
Outside the bottom house


Click to Enlarge
Enjoying the swimming hole


Click to Enlarge
Group shot from IISAC2006


Click to Enlarge
Bottom house kitchen


Click to Enlarge
Light trails at night


Click to Enlarge
Male toilets


Click to Enlarge
Mike enjoying the rope swing


Click to Enlarge
Mike enjoying a refreshing beverage :)


Click to Enlarge
The road down to the bottom house


Click to Enlarge
Swimming hole


Click to Enlarge