IceInSpace Calendar Competition 2015!
Submitted: Wednesday, 30th April 2014 by Mike Salway
Winners are now announced!
Find out which images won the competition and will now make up your IceInSpace Astronomy Calendar 2015!
Buy your calendars now, from the IceInSpace Shop: Astronomy Calendar 2015.
---
Voting is now closed!
We received ~1000 votes, and over the next few days, we will contact the winners of each category to let them know.
Just by voting, you were entered into the draw to win a prize pack worth $100. We've pulled the person out of the virtual barrel, and the lucky winner is:
Henry Samson
Henry will receive 5 free 2015 IceInSpace Calendars.
Thanks very much to everyone for taking part in the competition!
---
It's on again! Last year's Astronomy Calendar Competition was a huge success, with over 250 entries, 70 fantastic photographers, over 1100 votes cast and over 3000 calendars sold (500 via IceInSpace!), so we're running the competition again for 2015.
The IceInSpace Astronomy Calendar for 2015 will again be made up of images captured by and chosen by the IceInSpace community!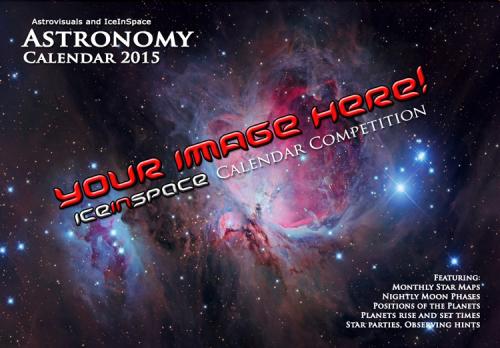 Click to Enlarge
Your image in the IceInSpace Astronomy Calendar 2015!



Keep reading below for information on how to submit your images or how to vote.
---
How it Works
Submit up to 6 images during the submission timetable
Images will be submitted into one or more of the following categories:


Galaxy
Nebula or Starry Nebula
Star Cluster, including Globular or Open Cluster
Nightscapes - People and Sky
Nightscapes - General
Nightscapes - Star Trails
Widefield Sky
Aurora
Comet
Moon, including Lunar Eclipse
Planets
Sun, including Solar Eclipse


IceInSpace will then select four finalists from each category
The IceInSpace community will then vote for their favourite image (from our top four) in each category.
IceInSpace will then choose one of the winning images to be the cover image, and the remaining 12 winning images will be used for the months of the calendar.
The photographer of the winning cover photo will receive $250. Other winners can choose to receive either $100 cash OR 10 free calendars (value $200).
All finalists will appear in the 'Astronomy Calendar' iPad app and receive a free copy of the App for the year their photo appears.
All winners will also receive 10 IceInSpace Stickers.
---
Submitting your Images
Submitting your images is easy! Dig through your astrophotography albums and galleries and upload your favourite images using our web form.
Images must be submitted between 9am on the 15th May and 5pm on the 15th June 2014.
Photographer must be an IceInSpace Member (register here)
Images submitted for voting must be between 1200px and 2000px on its longest side, and no greater than 2mb in size (if you win a category, you will be asked for a larger size)
Images should be in landscape format to suit calendar pages
Each photographer can submit up to six images.
You may submit each image in any category you choose.
Submitting your images is FREE!
Please see below for how to vote for your favourite images across all categories!
---
Voting for your Favourites
When image submission is over, Astrovisuals and IceInSpace will narrow down the submissions and select our favourite four images in 13 categories.
The images will be presented anonymously (without photographer or telescope/camera details) on a voting page where the extended IceInSpace Community can vote for their favourite image in each category. Voting will take place between approx 25th June and 15th July 2014.
Just by voting you can win a prize too! One lucky voter will receive 5 free IceInSpace Astronomy Calendars, valued at $100!
All you have to do is vote for one image in each category, fill in your details and you're in the draw! You can only submit your vote once.
Voting is now closed.
---
The Winners!
The images with the highest number of votes in each category will be the winners, and IceInSpace will choose the cover image from the winners.
View the Winners of the IceInSpace Calendar Competition!
The calendar will be available for sale in August/September 2014 from the IceInSpace Shop.
---
Rules and Fine Print
Please read the rules carefully, and be sure to ask any questions on the forum if anything is unclear. A thread discussing the competition is found here on the IceInSpace Forum.
Image submission is open to registered IceInSpace Forum members including the moderators. The moderators are volunteers and have had no involvement in organising this competition, so they are eligible to enter. The administrators (mojo and iceman) are not eligible to enter.
Image voting is open to the public (you do not need to be a member of the IceInSpace Forum), however you may only vote once. You must vote for one image in each category.
The competition will be launched on Thursday the 15th May 2014 at 9am AEST. The competition will close at 5pm AEST on 15th of July 2014. Winners will be announced on or around the 25th July 2014.
Image Submission:

All images must be submitted using the online entry form between 9am on the 15th May and 5pm on the 15th June 2014. Entries received after the closing date will not be eligible.
Each photographer may submit up to 6 images.
Photographer must be a member of the IceInSpace Forum (register here).
Images are used under the following terms:

You agree for your photo to be published in the calendar
You will retain copyright of the photo as the original photographer.
Your images will be clearly marked Image © Joe Blow
Your image may appear in the 'Astronomy Calendar' iPad app with appropriate credit
No other use will be made of the images without your permission.
We have the right to adjust your image, but final image will be sent to you for approval.
All finalists who submit images will receive a free copy of the 'Astronomy Calendar' iPad app

If there aren't enough images submitted in a category, we reserve the right to exclude that category from the competition. Images in that category will be moved to another category. We also reserve the right to divide categories where necessary.

Prizes:

The winning cover image will receive a once-off payment of $250
All other winning images will choose between either $100 cash OR 10 free calendars (value $200).
All finalists (photographers who make it to the voting stage) will receive a free copy of the 'Astronomy Calendar' iPad app for the year that their image appears.
The winning voter will receive 5 free IceInSpace Calendars.
Prizes will be posted out to the winners once the calendars have been printed and are available for sale (approx early September 2014).

On (or around) the 17th of July 2014, all voters will be placed into a hat and a winner will be drawn at random.
IceInSpace and Astrovisuals will determine which winning image is used in which month of the calendar
The winners will be contacted to via email or forum PM to send high-resolution versions of their images (minimum 200dpi in A4 landscape format), and may have their names displayed on the IceInSpace website or in newsletters or other marketing. Make sure your profile is setup to receive PM's and ensure your email address is valid so that you can be contacted!
The prizes cannot be converted to cash.
The judges decision is final and no correspondance will be entered into.
All dates and times are in AEST.