A Bad Week for Space Flight
A bad week for Spaceflight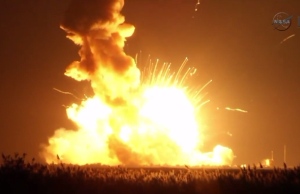 It's been a pretty bad week for Spaceflight.
First, an Orbital Sciences Corp. Antares rocket exploded just seconds after take-off, erupting into a huge fireball. The good news: No-one was harmed. It was an uncrewed vehicle; no people were on board and there were no injuries at the launch site. It was loaded with supplies and experiments for the International Space Station, and was Orbital's third such resupply mission.
At a cost of $200 million, it's certainly a set-back but hopefully investigations can uncover the cause quickly, fixes made and launches can get underway again. The crew on the ISS were in no danger; they have plenty of supplies onboard, and a Russian Progress vehicle was launched and took supplies to the ISS successfully just days later.
For more information and plenty of videos, check out Phil Plait's article: Antares Rocket Explodes on Take-off.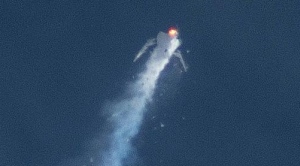 Secondly, just a few days later, the Virgin Galactic private suborbital rocket plane SpaceShipTwo suffered a major malfunction and crashed in the Mojave Desert. The co-pilot was killed and the pilot was seriously injured.
Investigations are still ongoing, but again Phil Plait has a nice piece on Slate which is a great read. Space flight is hard, but we must continue the journey!

Up to 30% off the IceInSpace Astronomy Calendar, in time for xmas!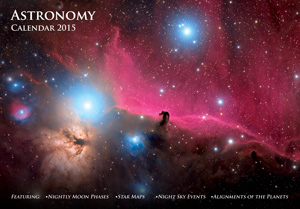 Get 30% off your IceInSpace Calendars by ordering 2 or more calendars and using the coupon code 10PCTNEWS on the cart or checkout page!
What a great gift idea - affordable, easy to order, delivered to your door and suitable for the whole family.
Order online at the IceInSpace Astronomy Calendar 2015 page. Paypal or direct deposit accepted, and flat-rate delivery anywhere in the world.
Incredible view of Earth from the the far side of the Moon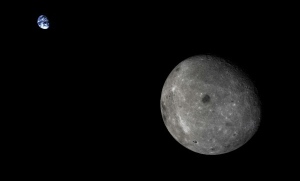 China's Chang'e 5 spacecraft rounded the lunar far side earlier this week, on the return leg of its journey to the moon and took this spectacular picture of the Earth over the far side of the Moon.
Captured on October 28, 2014, from Earth the phase of the moon was a waxing crescent. From the moon that day, the Earth was in a waning gibbous phase.
The Chinese Chang'e 5 spacecraft, which is testing lunar sample return technology, has rounded the lunar far side and is now on the return leg of its journey to the moon. It is landed back on Earth on Friday, October 31, 2014. See a bigger picture and read more on EarthSky.