The Grand American Astronomical Experience – Closer Than You Think
Submitted: Thursday, 7th March 2013 by Mike Salway


Click to Enlarge
Visit the Arizona Radio Observatory



Astronomy takes on a new meaning for the amateur enthusiast with a customised specialist tour visiting the world's most important observatories, a chat to an expert astronomer or even better, chance to participate in a viewing session with the Hooker 60" telescope – the world's most powerful visual telescope – located at Mt Wilson Observatory in Los Angeles.
Novices and accomplished astronomers alike have the opportunity to enjoy all of this and more, on The Grand American Astronomical Experience - a tour escorted by Cris Ellis, founder and owner of Astronomy Alive in Melbourne – one of Australia's major telescope suppliers – and founder and president of the Astronomical Society of Melbourne.
The tour also offers guided visits to observatories on Mauna Kea in Hawaii – including Keck, Subaru, Canada France Hawaii and Gemini North; Palomar in Los Angeles; and Lowell, Mt Graham and Kitt Peak in Arizona. Other highlights include a visit to the Meteor Crater near Winslow, Arizona the worlds best impact crater example which struck 50,000 years ago. And, to bring matters more up to date there is a visit to Kennedy Space Centre in Florida, to tour the NASA facility where many of the missions to outer space were launched. Visitors will see the Apollo control room, a fully laid out Apollo Saturn V rocket, and inspect Apollo capsules among a host of mind boggling attractions. A special highlight is dinner with an astronaut.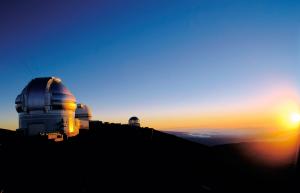 Click to Enlarge
Mauna Kea Observatory



Access for many of the observatories has been made possible by Cris' network of contacts at these facilities. Cris will also be on hand throughout the tour to ensure that participants receive as much information as possible on the activities of the observatories.
The tour is also an excellent opportunity to take in some of the most famous sites in the US. A tour of Honolulu includes a visit the USS Arizona Memorial at Pearl Harbour. On the big island of Hawaii a tour of the Volcanoes National Park at Kilauea brings visitors up close to an active volcano. From Los Angeles the tour crosses the picturesque Nevada Desert by coach to visit dazzling Las Vegas, and overnights at Grand Canyon to allow time for participants to see the canyon under evening and morning light. The road leads on to Flagstaff, Phoenix and Tucson with their Wild West associations. Land arrangements conclude in Orlando, Florida where participants can enjoy its many attractions in their free time including Disney World.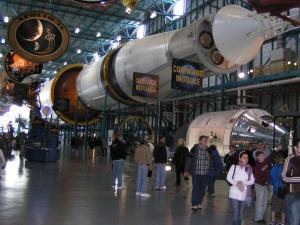 Click to Enlarge
Kennedy Space Centre



The Grand American Astronomical Experience is a 23 day tour departing Australia on Friday 4 Oct this year (2013). It includes flights from Melbourne, Sydney or Brisbane and return. It is escorted to Orlando by Cris Ellis who will interact with resident astronomers at observatories. Professional local guides will host city sightseeing tours. This leisurely paced, inclusive tour also includes first class accommodation, many meals, tipping, and entrance fees.
Information and bookings are available exclusively through Cox & Kings Travel at 72 Market St South Melbourne. Phone 1300 836 764 for details, or download the PDF of the tour information below.
Disclaimer: This is a sponsored story (advertisement).