Global Astronomy Month, April 2012
Submitted: Thursday, 15th March 2012 by Mike Salway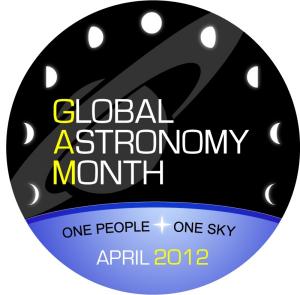 Click to Enlarge
Global Astronomy Month, April 2012


Global Astronomy Month is an initiative of the Astronomers without Borders community, and GAM 2012 in April is the world's largest global celebration of astronomy since the unprecedented International Year of Astronomy 2009.
GAM 2012 brings new ideas and new opportunities, and again brings enthusiasts together worldwide, celebrating One People, One Sky.
Programs
Global Astronomy Month 2012 programs cover a broad range of activites. Observing through telescopes in person and remotely over the Internet, special live astronomy-related performances for visually-impaired and sightes alike, photography and astropoetry, classroom activities and contest - there are programs for all. Find one you're interested in and join Astronomers Without Borders from around the world in celebrating astronomy and the beauty of observing the sky under the motto One People, One Sky.
10 Ways to Get Involved
April 2012 is rapidly approaching and Astronomers Without Borders from all around the globe are busy organizing events to mark the celebration of the month dedicated to astronomy and the beauty of observing the sky. Join them in this global pursuit of sharing the Universe with everyone under the motto One People, One Sky.
Here are 10 ways to get involved including global programs, local events, remote observing from the comfort of your own home, classroom activities during Lunar Week, a family night out under the stars (some are falling during the Lyrid meteor shower!), the Global Star Party, social networking and more.
Connecting with GAM2012
Information for this page sourced from the Global Astronomy Month website.
Article by Mike Salway (iceman). Discuss this article on the IceInSpace Forum.