Fujinon 16x70 Binoculars Review
Submitted: Tuesday, 25th June 2013 by Rita Jacobson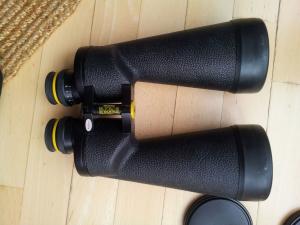 Click to Enlarge
Fujinon 16x70 Binoculars



In this review I will cover the Fujinon 16x70 binoculars from my personal experience as an amateur astronomer. I have a great passion for binoculars, I own a few pairs and use them frequently for stargazing.
Why I Chose the Fujinon 16x70
I was looking for large binoculars to use exclusively at night. After reading endless reviews online I noticed that this specific model is very highly recommended for astronomy. Almost everyone that reviewed these binoculars seemed to love them! At under $1,000 they were also within my price range so I got them.
Bright Image
The best word to sum up these binoculars is: "BRIGHT". Basically what you're getting are 2 telescopes with 16x magnification and a very clear bright image. Fujinon (by Fuji) are well known for their excellent optics and supreme range of astro binoculars. The fully multicoated lenses are what allows them to take in so much light and produce such a nice image. Besides that of course, it is a 70mm lens - and yes.. size does matter!
So overall, with its big lenses and Fujinon's top notch optics what you get is a perfect bright image. Even when using the full zoom. As I mentioned I own other binoculars including Canon (see my other reviews on this forum) and Leica. The image on the Fujinon 16x70 is not as sharp as my Leica ones - but they are 16x and my Leica is 10x. So it's like comparing apples to oranges really. But again - even using the full zoom, the image still looks amazing and very bright.
When you are observing even the most distant faded stars these binoculars will enhance their light. Even scanning the skies on cloudier nights you will be able to pickup many more subjects than with your naked eye. This is again because of the bright image.
Price
These were just under $1,000. I bought them online on Procular. They are currently on sale for $933 + free delivery at the time of writing.
I can recommend this shop as I bought binoculars from them a few times before and was always happy with my purchase and their service (Australian too!). I haven't seen Fujinon binoculars for sale in other shops in Australia, at least not in Sydney, but you can try to find some.
Size and Weight
As you can imagine the Fujinon 16x70 are very large so a tripod is recommended. This might be one of their only downfalls. They come with a tripod mount. I have a cheap tripod which I've been using for years and it does me just fine.
Other Features
Another good feature about the Fujinon 16x70 is their durability. As most high-end binoculars they are waterproof, fog-proof etc. but they are also solid, strong and have that high quality feel to them. A kind of product that will stay with you for years to come! The eye caps are also comfortable to view through over extended periods of time and the grip is fantastic. The Fujinon 16x70 are easy to focus and perfectly fine to use with glasses on.
Overall I can highly recommend these binoculars for astronomy, they are powerful, high quality quality, provide a very bright image at night and are definitely worth their price.
Review by Rita Jacobson (Ritajacobson). Discuss this review on the IceInSpace Forum.