Andrews 15x70 Binoculars
Submitted: Thursday, 7th March 2013 by John Wilkinson
Introduction
Having owned a pair of 10 x 50 binoculars for many years I decided to upgrade them to 15 x 70. This is mainly because I found the 10X was not sufficient to see many detailed astronomical objects in the night sky, esp. craters on the Moon. The brand I choose was Andrews Communications (Sydney) own brand – but these are also sold around the world under other brand names such as Celestron Skymaster, Orion Resolux, and Oberwerk (they obviously come out of the same factory).
The price at the time of purchase was about $150 and I have found them somewhat of a bargain. Hence I thought a review on IceInSpace might assist others in choosing a pair of binoculars for astronomy purposes. Observing with binoculars provide excellent observing skills that are useful for finding objects with telescopes.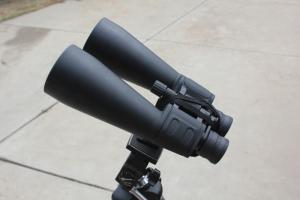 Click to Enlarge
Andrews 15x70 Binoculars



Case
The order arrived a cardboard padded box – the binoculars were inside a strong black, canvas-like carry bag with adjustable strap. The binoculars include plastic caps for both eyepieces and objective lenses. Covering the binoculars is a lining of black rubber that provides very good grip.
Weight and size
I found it easy to hold the binoculars by the main barrels when observing. These binoculars are larger and heavier than 7 x 50s, or 10 x 50s but I found I could manage them easily by leaning up against a solid wall or post, or by mounting them on a camera tripod. Andrews were kind enough to include a metal tripod mounting arm with my binoculars and I found it very useful but not essential. The binoculars are 28 cm long and 21 cm at widest point. See photo 2 below.
Specifications
Aperture 70 mm
Magnification 15X
Weight 1.36 kg
Length 28 cm
Angular field of view 4.4°
Exit pupil 4.7 mm
Eye relief 18 mm
Prisms BAK-4 porro type
Optical coatings fully-coated
Weather proof water resistant rubber covered
Tripod adaptor available
Eye cups provided around each eyepiece
Focusing
Focusing is achieved via a central focusing knob which is rotated. Focusing was very good on these pair of binoculars and nice sharp images were achieved to at least 75% of the way to the edge of view.
The right hand eyepiece is independently focusable to accommodate the differences in focus of the observer's eyes – this is called a 'dioptre adjustment'.
Eye relief
Eye relief is the distance that your eyes must be from the eyepieces to see the whole field. An eye relief of less than 9 mm makes for uncomfortable viewing. If you wear glasses, you will get a sharper view if you keep them on when using binoculars. An extra long eye relief, say about 15 mm, is better for those wearing glasses. The binoculars under test had a good eye relief of 18 mm.
Field of view
The field of view is also often stamped somewhere on binoculars. Field of view is usually expressed in degrees or as a certain number of metres at 1000 metres. Most binoculars have a field of view around 6 or 7 degrees. Some high-power models may have 3 to 5 degrees, while wide-angle models will take in 8 to 10 degrees. The 15 x 70 Andrews binoculars have a field of view of 77 m at 1000m (or 4.4°).
Exit pupil
Exit pupil describes the width of the beam of light as it leaves the eyepiece. Some binoculars have this written near the aperture and magnification figures, but if not, it can be calculated by dividing the aperture by the magnification. The 15 x 70s under test had an exit pupil of 4.7 mm.
At night, under good conditions, the pupil of a dark-adapted human eye opens to about 7 mm. Binoculars with a 7 mm exit pupil produce a beam of light as wide as the eye can accept, given maximum image brightness. As we age, our pupils can't open as wide, and may only reach 5 mm or less; thus binoculars with exit pupil of 7 mm are less effective.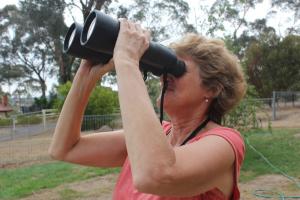 Click to Enlarge
Holding the Andrews 15x70 Binoculars



Optical performance
The 15 x 70 binoculars under test have very good optical performance considering the price. The central area of the field of view was nice and sharp with no evidence of fuzziness, false colour or double imaging. Stars stayed sharp until about 70% of the way to the edge of field where they developed wings (due to astigmatism in the eyepieces – fairly normal for binoculars).
There was some chromatic aberration on objects near the edge of field but this is not a real problem when scanning wide areas of the night sky, for clusters and bright nebulas. The large aperture gives a "wow" sensation when scanning the Milky Way on a dark night. Craters on the Moon are clearly visible, it is much easier to recognise features in 15X binoculars than 7x or even 10X. Craters and mountains were nice and sharp. The edge of the Moon and bright planets had a slight bluish colour due to chromatic aberration.
To summarise
Pros
Very good magnification – useful aperture, bright images.
Very good optics and easy to use.
Quick to grab and view. Can be hand-held.
Very good eye relief – excellent for those who must wear glasses.
Strong construction
Can be used to view the landscape since images are erect and right way around.
Great value for money
Cons
Weight (heavy if held for long periods)
Not suitable for hiking (too large and heavy)
Tripod mount needed for long term viewing.
Slight chromatic aberration on edges of bright objects like the Moon and Jupiter.
Overall, I would recommend the Andrews 15 x 70 binoculars as a useful tool to casually observe/scan the night sky with. Great value!
Disclaimer:
In closing, I should mention that I have no affiliation with Andrews Communications (Australia) other than as a paying customer.

Review by John Wilkinson (John W). Discuss this review on the IceInSpace Forum.