Another Parallelogram Binocular Mount (with a difference)
Submitted: Monday, 31st January 2011 by Gary Lowe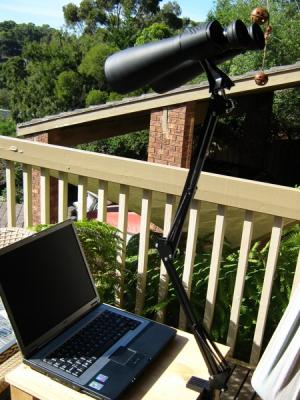 Click to Enlarge
A Parallelogram Bino Mount with a difference



Introduction
As a lifelong photographer who has experimented with many forms of perspective (aerial photography using RC aircraft, kite aerial photography (KAP) and the many and rewarding forms of terrestrial photography, I decided to explore the possibilities of astrophotography.
Research indicated that this could be a very expensive process that I may or may not continue with depending on the satisfaction from the results. I joined a number of astronomy forums and have received great support as a beginner..this forum being one of them.
Sensibly, I decided to acquire binoculars (Celestron 25x70) as a starting point to explore the heavens and to use the star hopping technique to familarise myself with the southern sky. I chose to use Stellarium software to help in this educational process.
So far my investment is $150 AUD, with Stellarium being freeware and I already had a spare laptop.
The Celestron bins are reasonably substantial in size and moon observation handheld is entirely realistic…but not for extended periods due to weight.
For other than the moon, some form of mount is certainly required to keep the bins steady and to enjoy what you're looking at, particularly if I was going to mount a camera to the bins (probably with the Seben adapter). My existing tripods simply weren't suitable for astronomy, terrestrial yes, astronomy no.
….More research.
I looked at commercial parallelogram mounts (cheapest was $209 AUD – no tripod) and DIY.
I don't have a workshop and limited tools, so I decided to be innovative in my approach to solving my requirement. I had already built steady-cams for my movie cameras and this I felt was going to influence my design and keep my costs to a minimum.
My design requirement was a parallelogram structure that considerably steadied the bins for extended viewing, but didn't necessarily have to support the weight of the bins independently, but were to be used in conjunction with human hands…a steady-cam. The mount had to allow multi-axis movement in order to be practical from a user perspective and require minimum modification to suit my purposes. The base had to preferably be a clamp design for attaching to multiple surfaces.
With my design requirements in mind, I searched eBay for a product that matched my criteria as closely as possible.
What I found was a clamp base designed parallelogram desk light stand that had multi axis movement, the appropriate length and minimum modifications to suit the tripod mount of the bins.
With a purchase price of $19.95 (AUD) + shipping, the mount arrived and was immediately subjected to surgery.
Electrical cord cut and removed
Lamp removed
Two holes were drilled in the binocular tripod mount and 2 mounting bolts & nuts fitted to secure the tripod mount to the lamp mounting plate…perfect
The result: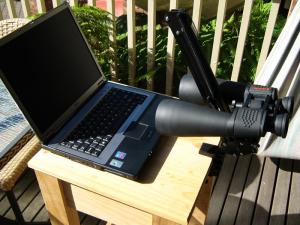 Click to Enlarge
Picture 1.


Picture 1 shows the mount attached to my observation table (my sons high school carpentry project – how convenient) with the mount in the fold down non-observing position.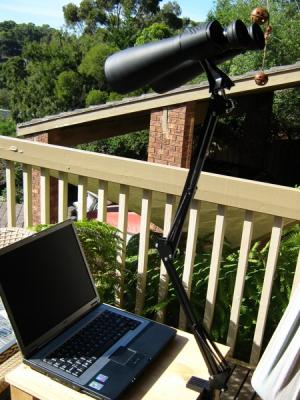 Click to Enlarge
Picture 2.


Surprisingly, the mount does carry the weight of the binos in this position (Picture 2) and I certainly didn't expect that.
Multi-axis movement is achieved through the 360 degree lateral rotation of the clamp base and bin tripod base, as well as 180 degree vertical rotation of the swivel mount on the binocular end of the parallelogram arm.
This renders the mount quite maneuverable for star-hopping.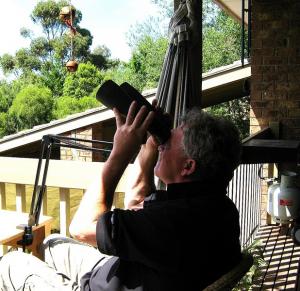 Click to Enlarge
Picture 3 - The final picture shows (for demonstration purposes only) showing the mount being used.


Further development being considered is to acquire a 2nd hand reclining swivel office chair that would provide a comfortable viewing turret and the basis to attach the bin steady-cam and laptop.
Results:
So far I have invested $180 AUD in my astronomy pursuits which included the $30 on the binocular steady-cam.

The bin steady-cam is easy to store and transport, set-up and use. The stabilization I have achieved is considerable compared to handheld, whilst not totally motionless as it still has input and reliance on human hands, it is a major step forward in improving my satisfaction from this rather interesting hobby.

Whilst not for everyone as we all have different means and requirements, I hope you enjoyed my binocular steady-cam project.


Article by Gary Lowe (East17). Discuss this article on the IceInSpace Forum.