Fitting DSC's to a 16" Lightbridge
Submitted: Wednesday, 22nd September 2010 by Barry Gerdes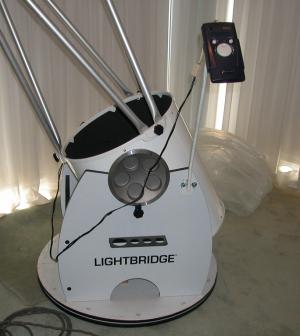 Click to Enlarge
Lightbridge Stalk and Argo Navis



I had an old Meade Magellan 1 that I purchased on a whim from Meade when they were supplying Australia direct about 10 years ago and never used. I tried to sell it some time ago but the only taker who wanted it to fit a similar scope decided it would be too much bother and cancelled. I think he settled for an Argo Navis that came with suitable adaptors.
I recently purchased a 16" Lightbridge telescope and as I still had the Magellan 1 I decided to adapt it to the telescope. I found most of the parts required very little modification. I was glad I hadn't sold it.
1. The AZM Encoder
The modification here only involved removal of the old bolt and its retaining nut and replacing it with the one from the Magellan kit. However there is a positioning plastic sleeve that was too short to stay in the correct position so I made a longer one.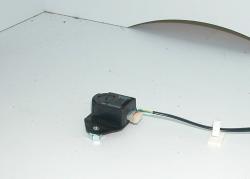 Click to Enlarge
Azimuth Pivot and encoder in place



2. Alt. Encoder
This needed more work, as there was no suitable pivot pin in the center of the altitude bearing assembly. I took this off and put it in the lathe and drilled a 3/16" hole in the middle that I tapped out with ¼" Witt. I then made a pin out of a piece of steel tube machined to fit the encoder sleeve, opened the hole out and attached it to the altitude bearing with a suitable bolt and locking nut.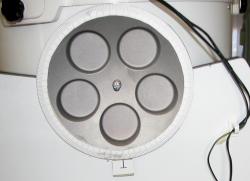 Click to Enlarge
Altitude pivot in place



The Magellan altitude encoder assembly was made originally for a much smaller altitude bearing so with a hacksaw and hammer etc I cut the old retainer clamp off and extended its arm to suit the Lightbridge. I replaced the grub screw with a screw that could be adjusted with fingers to enable easier fitting and removal.
I then made an altitude scale with AutoCad and pasted it on the bearing so I could test the Magellan on a dummy run. I did a similar scale for the azimuth that needed to be printed in sections. The skills I learnt in kindergarten in cutting and pasting came in very handy.


Click to Enlarge
Alt encoder with modified bracket


Click to Enlarge
Altitude encoder in place


Click to Enlarge
Base showing azimuth scale


Click to Enlarge
Magellan Box on side of telescope with original Velcro attaching parts

The Magellan while working OK needs to be reset each time the power is removed and the LED back lit screen was hard for me to read in the dark. I decided to try the Argo Navis as an alternative controller.
The Magellan I connects to the encoders via a split cable plugged into the 8p8c connector on the side of the Magellan. The encoders are Hewlett Packard HEDM 5500 J06 4096 step.
To save myself some money initially I decided to try to use the existing encoders and cable. The cable connections were known to be different so I designed an interface using an 8p8c in line connector to cross over the Ground and VCC leads. The signal leads were connected to the same pins.
3. Cable configuration


Click to Enlarge
Fig 1 - Magellan 1 encoder cable


Click to Enlarge
Fig 2 - View looking towards the plug

Magellan I Encoder cable Pin Out Code Legend to Argo Navis
| | | | | |
| --- | --- | --- | --- | --- |
| | Magellan | | | Argo Navis |
| #8 | VCC | Altitude | Pin #6 | VCC |
| #7 | Channel A | | Pin #7 | Channel A |
| #6 | Ground | | Pin #8 | Ground |
| #5 | Channel B | | Pin #5 | Channel B |
| #4 | VCC | Azimuth | Pin #2 | VCC |
| #3 | Channel A | | Pin #3 | Channel A |
| #2 | Ground | | Pin #4 | Ground |
| #1 | Channel B | | Pin #1 | Channel B |

Adaptor for Argo Navis to use Meade Magellan I cable and encoders
The Power wires VCC and Ground are opposite on the Argo Navis compared to the Magellan and need to be crossed over. The signal lines are the OK.
Obtain a modular RJ45 8p8c in line connector Pin 1 to Pin 1. DS P/No F2169 JAYCAR YT-6080.
Open it up to show the eight joining wires Wh, Vi, Yl, Gn, Rd, Bk, Or, Bl
Cross connect the Vi and Gn wires
Cross connect the Bk and Bl wires


Click to Enlarge
Fig 3 - In line connector opened up


Click to Enlarge
Fig 4 - Adaptor connector rewired for Argo Navis (Magellan on LEFT, AN on RIGHT)

Make a short connecting (null) cable from 8 core flat or 2 lengths of 4 core flat and two RJ45 8p8c plugs crimped so that the wires go from Pin 1 to Pin 8, Pin 2 to Pin 7 etc. See Fig 1
Connect the short cable from the Argo Navis to the in line connector and the Magellan cable from the in line connector to the encoders.
To hold the Argo Navis I made a short stalk from scrap steel and fixed it to the LightBridge box with fixed studs and wing nuts.


Click to Enlarge
Lightbridge Stalk and Argo Navis


Click to Enlarge
Lightbridge Stalk and Argo Navis

Article by Barry Gerdes (barrykgerdes). Discuss this article on the IceInSpace Forums.