Mars will NOT be as Big as the Full Moon on August 27th!
Submitted: Thursday, 7th May 2009 by Mike Salway
It's that time of year again, when the emails and powerpoint presentations start going around about Mars being as big or as bright as the Full Moon on August 27th. I've received several emails from people asking about it in the last couple of weeks.
It's a hoax and email spam. You can safely ignore and delete it, and don't propogate it by forwarding it onto people :)
On August 27th 2003, Mars was at its closest to Earth for some time - still a distance of 56 million km, but some communication at the time hyped it up a bit more than necessary (it was never as bright or as big as the full moon).
Every year since then, an email has been circulated around the internet claiming various things like:
"no human being has seen in recorded history"

"NO ONE ALIVE TODAY WILL EVER SEE THIS AGAIN"

"The Red Planet is about to be spectacular"

"Mars will look as bright as the full moon"

"It will look like the earth has 2 moons"
and that on August 27th everyone should race outside and look at Mars.
It's all not true. Mars reaches opposition in late January, 2010, and even then it will still just look like a medium-brightness red star.
So tell your friends it's a hoax and it's spam, and wait until this time next year when you start receiving them again :)
The following simulations generated by Dennis Simmons in Starry Night Pro show the relative sizes of the Moon and Mars as viewed from our location on Earth, in both 2003 and in 2009.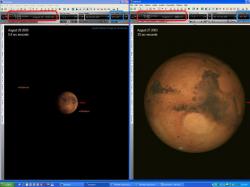 Click to Enlarge
Mars at ~6 arcseconds in August 2009 compared with 25 arcseconds in August 2003




Click to Enlarge
Relative sizes of Mars and the Moon in August 2009


Click to Enlarge
Simulation of sizes as seen through a telescope in August 2009

Article by Mike Salway (iceman). Discuss this article on the IceInSpace Forum.