Binocular Chair
Submitted: Thursday, 22nd March 2007 by Geoff Liddicoat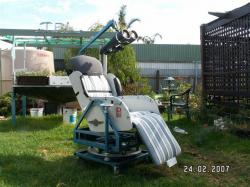 Click to Enlarge
Binocular Chair


After reading a few comments on Binoculars and different ways of mounting them I thought I would write an article about how I made my binocular chair.
I bought my 25 X 100 binos early last year and also like others found viewing was a problem. Using a tripod was a pain in the neck literally, and I would think a parallelogram would be the same. I procrastinated for months until I was happy with a chair design. The azimuth rotation was the problem because I really didn't want to use a motor for this. I ended up using a hand wheel which I can still reach when fully reclined and is great. I can move around the sky quickly and early evenings I sit in the chair and read while listening to stereo music via two computer speakers and a portable cd player. I look out for and follow the jets at 32000 feet. I cannot quite read the writing on them, but very nice to watch. An important feature is the tray to hold star charts and a coffee cup.
I used a two speed windscreen wiper motor for the altitude movement and as long as the chair pivots on or close to the center of gravity, the motor does very little work. The motor drives a threaded rod which reclines the chair. Two limit switches prevent the chair from reclining too far and returning too far and damaging the drive.
The large pulley that turns the chair in azimuth is made of MDF which is quite strong enough. The chair rotates on 6 wheels and pivots around a central 25mm rod with bearings.
I used 32mm square tube for the frame and some 25x12 mm steel to support the chair.
The chair is a basic shape made of chipboard with a steel tube frame. I bought a deck chair mattress for the chair, costing $40.
The binos are mounted on a square tube frame which is adjustable for different positions. The frame hinges out to enable getting in and out of the chair.
With a few basic engineering skills the chair is not hard to build, the tricky part is working out the center of gravity of the finished chair with a person and binos on it. To do this I used a chunk of steel in place of the binos and a basic frame to hold the chair while I experimented. I had a couple of close calls when I sat on this as it wanted to flip over backwards.
I built the chair for a total of around $100 including the mattress.


Click to Enlarge
Comfortable Seating


Click to Enlarge
Viewing at the zenith


Click to Enlarge
Star Chart holder


Click to Enlarge
Altitude and Azimuth motion

Article by Geoff Liddicoat (Geoff). Discuss this article on the IceInSpace Forum.