Time-Lapse Photography : A Complete Introduction
Submitted: Tuesday, 7th August 2012 by Mike Salway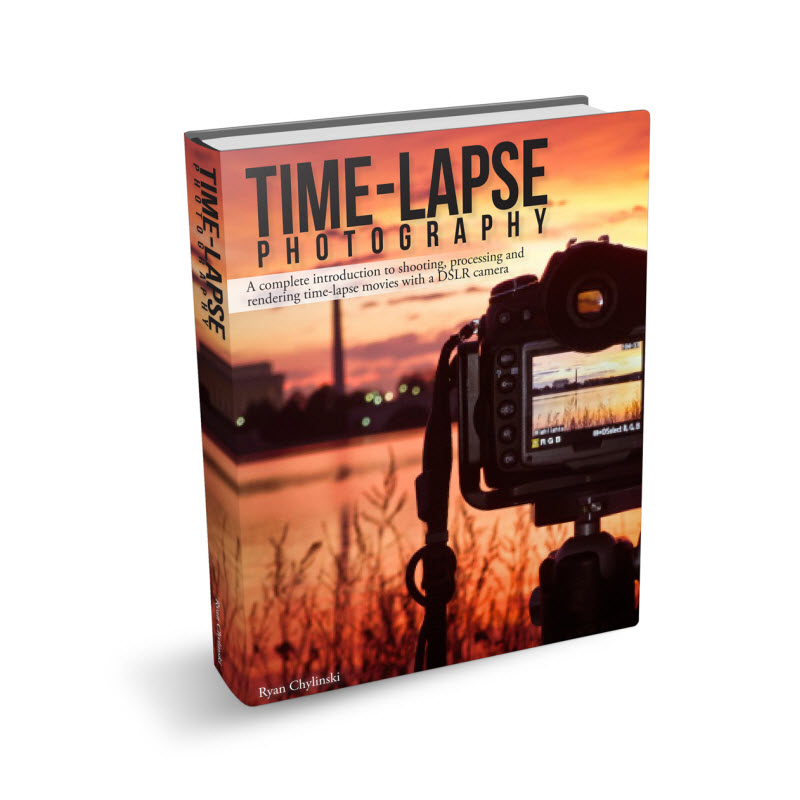 I've done some timelapse photography in the past, but always with long gaps in between each session so I end up forgetting what I need to do. I end up fumbling through the camera settings before getting it right, and then the images sit on my computer for ages because I forget how I processed them, how I created the movie, the best codecs to use etc.
So when I saw Ryan Chylinkski's e-book I was keen to buy it to see whether I was following 'best practise' and to also have that guide with me that I could use the next time I wanted to do a timelapse.
Time-Lapse Photography : A Complete Introduction is a 146-page PDF e-book, available as a digital download from Ryan Chylinksi's website for only $14.99. Once purchased, the book will be available immediately as a digital download (approx 40meg PDF).
I read parts of the book on my computer using normal Acrobat reader, and I also imported it into the Kindle reader and iBooks on my iPad and was able to read it equally as well there. There was one issue with reading via the Kindle reader, and that was some of the embedded video links didn't launch out to Vimeo.
The guide covers the art and science of time-lapse photography and contains both detailed explanations and immediately actionable summaries in a colourful easy to understand and fun to read package. The book contains tons of photographs and diagrams (over 350) as well as printable summaries and checklists.
The book also walks through three separate rendering workflows that touch different ends of the cost (both free and not so free), functionality and time-to-learn spectrum..




Click to Enlarge
Section Headings


The book is divided into six main sections.
Section 1 - Timelapse Gear from Basic to Advanced
The first step to taking your first timelapse, is to understand what gear you'll need. Hopefully you've already got most of what you need already with a DSLR and a Tripod, but there's a few extras that can make it easier for you.
This section covers the gear, from tripods, to intervalometers, cameras and lenses. It also shows some of the advanced gear that's available for those willing to spend a bit more.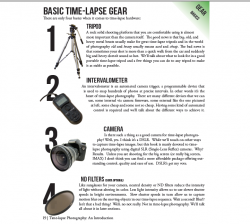 Click to Enlarge
Some of the basic gear you'll need, from Section 1



Section 2 - Time-Lapse Image Settings
This section gets into some of the technical details around image size and format, RAW v JPEG, different megapixels and aspect ratios and of course making sure you can fit your whole sequence on your memory card.
It's a great section for those of us (like me!) who just get out there and shoot without thinking of the consequences later on. The book recommends starting with jpeg and progressing to RAW later on, and I'd concur with that. Shooting in RAW if you're just getting started is an extra step and an extra complexity you don't really need straight away.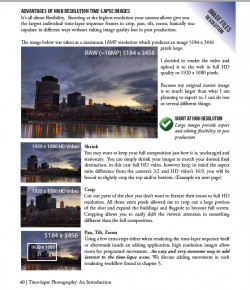 Click to Enlarge
A discussion on image settings, resolution and more, from section 2.



Section 3 - Shooting Time-Lapse
This section is about shooting the actual timelapse - taking into account the composition, the time of day, 'anticipating change', and follows with programming the intervalometer and finally choosing and understanding the exposure to use.
It's a comprehensive section and obviously an important one to make sure you're capturing a great image sequence that you want to convert to a timelapse.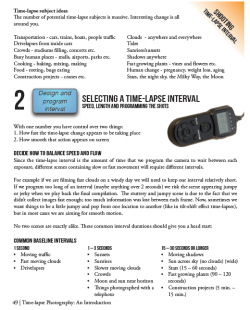 Click to Enlarge
A discussion on time-lapse intervals and some common guides, from Section 3



Section 4 - Preventing Time-Lapse Flicker
This section is all about preventing time-lapse flicker - that annoying flickering when the images are played back, potentially caused by the camera choosing the wrong settings (when in AV mode) as the light changes, or also by some mechanical effects.
The book talks about each of the causes and how to limit it, and is especially useful if you're shooting a scene where the light can change, caused by day into night, night into day, or even as clouds pass in front of the sun.


Click to Enlarge
Some hints and explanations about preventing timelapse flicker, from Section 4



Section 5 - Creating the Time-Lapse
So you've captured a great image sequence - but the job is only part done. Now you need to create the actual timelapse movie!
This lengthy chapter goes through all the nuts and bolts of creating your time-lapse movie, talking about pre-processing, software workflows, key-frames, transitions and panning/movement, de-flickering and more.
It covers a number of different workflows using different software packages, including free, cheap and expensive alternatives. It's a great section for getting the most out of the sequence you've captured.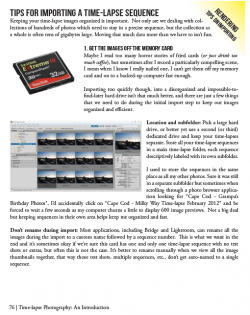 Click to Enlarge
Importing your image sequence, from Section 5


Section 6 - Time-Lapse Challenges
The last section of the book is to give you some challenges - to test yourself and to push yourself. It covers the challenge and the 'how-to' for some of the more difficult sequences such as astro timelapse (night sky scenes), day to night flicker free timelapses and motion control devices.
There's some great detail and hints and tips for these challenges, as well as some great previews of the type of hardware and devices you can buy for motion control.
My wallet hurts just reading it :)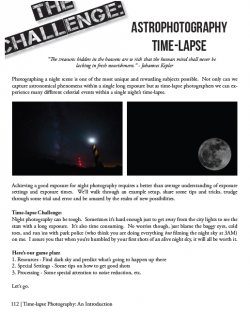 Click to Enlarge
An astrophotography timelapse challenge, from section 6


Printable Reference Summaries
The last section of the book provides a 5 page summary, in cheat sheet/checklist form, of all the camera settings, the exposure triangle, flicker prevention overview, programming your intervalometer, and a basic timelapse processing/rendering workflow.
Not all of it will be useful every time, and once you become more experienced you'll remember it all anyway, but it's a great start for those that want and need a reminder out in the field.
---
What I Loved
I love how the book is laid out and structured. The section progression make sense and takes you on a journey. It follows the workflow that you'll need when preparing for and executing your timelapse.
I like how each of the section is split into a Basic and an Advanced section. For those just getting started, it's a great introduction to the minimum they'll need, but for the intermediates, it shows how far you can go and some of the new tools, gadgets and software that's available.
The book doesn't have too much technical jargon, and is easy to understand for those not familiar with the terminology of timelapse and photography.
I liked the chapter on RAW v JPG, as well as the discussions about image resolution and having the flexibility to crop to setup movement/panning in post-processing.
Each section starts with a nice workflow showing the steps that you'll need to understand and the book then takes you through each of those steps.
There's some real, actionable tips and tricks that can be used on your very next time out.
Improvements?
I did get a lot out of the book, but here's a few suggestions of how I think it could be improved:
More embedded videos. I would've liked to have had more embedded videos in the relevant sections to 'show' the techniques in action, and to more importantly, show the good and the bad - what happens if you don't do this particular technique, versus what happens when you do.
More examples from the above point - embedded videos that show the difference between 24fps and 30fps. Videos that show the difference between a 1s exposure gap and a 10s exposure gap for a typical scene, examples using a ND versus not using an ND etc.
More 'behind the scenes' photos that go along with a timelapse. That is, show a time-lapse video and then show pictures of how the camera is setup, how the motion control gear is setup, etc.
A showcase section - I was hoping to find a section that had some more showcase videos either by the author or by his 'heroes'. Videos that inspire or motivate him. There are links to forums and other places at the end of the book, but I would've liked to see the authors' favourite or best videos.
Overall these are very minor critiques and certainly don't detract from the book as a whole.
Conclusion
I really enjoyed it. I've created a few timelapse movies already and thought I was already reasonably confident in the workflow and techniques, but Ryan's book taught me some things that I'm keen to put into action as soon as I can get outside with the camera again.
A must-read for both beginners and experienced photographers who want to add that extra dimension of motion to their photography.
At $14.99 it's great value, and can be read in a few hours. That's a very small investment to make, in time and money, to take your time-lapse photography to the next level.
Click on the image below to be directed to Ryan's site where you can buy and download the book.

Review by Mike Salway (iceman). Discuss this review on the IceInSpace Forum. Affiliate Disclaimer.