The Moon in Close-up - a next generation astronomer's guide
Submitted: Friday, 20th May 2011 by Jenny Ball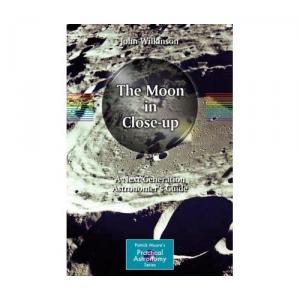 Click to Enlarge
The Moon in Close-up - a next generation astronomer's guide



Author: Dr John Wilkinson
Publisher: Springer 2011
ISBN: 978-3-642-14804-0
The Moon in Close-up is a recent book written by Australian author, Dr John Wilkinson. It is part of the Patrick Moore Practical Astronomy Series published by Springer.
The book is in paperback and is very well presented with many illustration in colour as well as black and white.
The book contains six chapters but the last chapter is divided into 17 sections. The maps and photographs are all oriented so that south is up – just as the Moon appears in the southern hemisphere. All photographs have been sourced from the Lunar and Planetary Institute in the USA (linked to NASA).
The first chapter is an introduction to the Moon. It covers all the basic terms and gives an overview of the Moon's features.
Chapter 2 discusses all the different space probes that have been sent to the Moon, including the most recent like those from China, India and Japan. The author shows how the findings of these space probes have changed our understanding of the Moon. For example, we now know where water ice exists on the Moon.
Chapter 3 is an interesting chapter on the geology of the Moon and is based on recent space probe data. I found the sections on ancient impact basins, lunar volcanoes, Transient Lunar Phenomena and mascons to be particularly interesting.
Chapter 4 is about occultations and eclipses and how to observe them.
Chapter 5 is discusses methods and instruments used to observe the Moon. Both binoculars and telescopes of each type are discussed. There is a short section on lunar photography.
Chapter 6 is divided into 17 study areas and this part of the book takes up about half of the book. Each study area covers a different region of the Moon "up close". There is a map and detailed photograph of each area together with a detailed description of each feature. I found this particularly useful when at the telescope.
Overall I recommend this book as one of the most useful for amateur astronomers. The book is a practical guide to observing the moon. It is most useful for people wanting information on the latest findings.
I brought my copy via amazon.com (online in USA for $35) as I found the price the best. It only cost $10 postage and I got my copy within 10 days. I also found copies can be brought through Fishpond.com ($48) and Booktopia ($58).
The Australian distributor is DA Direct. I would recommend people shop around online for the best price as they seem to vary.
Review by Jenny Ball (JennyB). Discuss this review on the IceInSpace Forum.