GSO SkyView ALZ Mount
Submitted: Monday, 9th May 2011 by Vincent Miu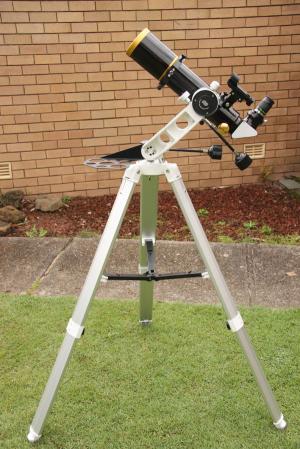 Click to Enlarge
GSO SkyView ALZ Mount, also known as the Astro-Tech Voyager altazimuth mount


Because of a chronic health issue I have decided to sell off the 12" Dob and replace it with something portable, and I already have a 3" short tube rich field refractor. To keep myself in the hobby I would like to get a maintenance-free long FL 5" Mak for planetary and lunar viewing as well.
Therefore I was looking for a simple, all-manual alt/az mount to go with them. Something I could set up on the fly for short viewing sessions in my backyard. No more heavy lifting, no more battery-driven EQ mount, counter weights, collimation or tiring packing ups.
After visiting a couple of websites the GSO Skyview ALZ mount (aka Astro-Tech Voyager altazimuth mount) appeared to fit my requirement. With a price tag of less than A$300 it has always been my first choice.
So I popped into Andrews one morning. After a brief inspection and a few questions to which Luke happily answered, I bought one home without hesitation. He gave me the second slow motion control cable separately because strangely enough, only one was supplied in the box. I knew from their website that the accessory tray would not be included (which is unusual I thought) and I need to pay extra if I wanted one. But to my surprise I was given, without asking, an attractive eye-piece rack. Free of charge. Wow! Howzat!
I have no connection with GSO or Andrews Communications other than being a regular customer and this review simply represents my own personal opinion intended to helping to inform my fellow amateurs in choosing their gear.
Both Andrews and Bintel offers a higher model of the mount called GSO SkyView Mk.II. I was told the only difference between the two was $70 and an extra 8.5" (21.6cm) long extension tube.
There was no instruction sheet whatsoever when I opened the Styrofoam filled box (Fig.1). But you don't have to be an engineer to figure out how to assemble it. All I needed was a few Allen keys which were included. (Fig.2)


Click to Enlarge
Fig 1


Click to Enlarge
Fig 2

I soon realized that there are 3 choices for the orientation of the "C" arm. I have to decide before assembly because once assembled it would take a fair bit of effect to change it. They are:
90 degree fully upright, where it offers best stability and balance (Fig.3)
45 degree on the left (Fig 4a,b)
45 degree on the right
After some considerations I decided to go with the second option: 45 degree on the left for the following reasons:
The finderscope on my Mak is only usable with the "C" arm on the left.(Fig.5)
With the "C" arm inclined at 45 degree, the EP would be further away from tripod head so I could have more legs room while sitting down observing. Also you will not have a collision between a longer telescope tube and the tripod
Well. It simply looks much better at an angled position!


Click to Enlarge
Fig 3


Click to Enlarge
Fig 4a


Click to Enlarge
Fig 4b

First Impression
Straight away I knew this is a quality mount. It is good looking, nice to touch and heavy duty. The powder-coating paint job was uniform and smooth to touch. I couldn't find any blemish anywhere. The extendable aluminium tripod was light but sturdy. The bubble level on the tripod head would come in handy on unlevel ground. All fittings on the legs are metal. There will be no more plastic end-caps to fall off or to crack after hardening. Tripod legs have pointed tips like the surveyor's tripod for a solid stance on grass. The knobs that lock the tripod legs are, for a change, placed on the inside of the legs (Fig.6), so they can't scrape clothing or legs or equipment cables in the dark. This also gives the tripod a clean, smooth silky look. Legs height could be locked securely by a gentle turn on the knobs. So far so good.
Both coarse (integrated friction bearing) and slow motion (120-tooth worm gear) movements have a firm feel with no noticeable backlash or leeway of movement. However they seem to be a bit tight and sticky. I am hoping they will loosen up after more usage in the field. The plastic tripod legs' spreading bars assembly do appear flimsy to me. The weakest link perhaps.
The whole mount weighs 6.2kg. Payload capacity of the mount is a bit of a mystery. No specification inside the box or on the mount. About 6kg says one website and 9kg another.


Click to Enlarge
Fig 6


Click to Enlarge
Fig 7

Field Test
I carried the mount through the back door into my backyard. It was light enough to carry it in one hand while pushing the door with the other. My backyard lawn is fairly flat so I didn't need to use the level bubble. Attaching my WO Zenithstar 80 which weights only 2.4kg onto the dovetail adaptor could not be easier. Holding the scope with my right hand, slide the dovetail plate in the slot, tighten the two thumbscrews with my left in a matter of seconds. I have to slide the refractor all the way forward in order to balance it (Fig.7). The shorter 5" Mak weights 4kg but to my surprise it balanced on the mount a lot easier than the refractor and the altitude slo-mo moved a lot smoother.
I was impressed with how easy it was to find and centre an object, even at moderate magnification. Just push the scope until it points to the vicinity of an object, line it up with the red dot, and then centre it in the FOV with the slow motion controls. There's no need to undo mechanical clutches or locks. Both coarse and slow motion were smooth, quiet and without backlash.
I found the altitude slow motion a bit tight and fairly sensitive to scope balancing. While viewing Saturn at high power with a 2x barlow, the slo-mo could only move up but not down. I soon realized that this would happen when the scope is off balanced in the altitude axis. My heavy 2" diagonal and the extra barlow certainly didn't help. This only happened to my refractor. I did not have such problem with the relatively shorter 5" Mak which is much easier to balance.
When viewing Saturn at 170x, I gave a good tap on the tripod leg. The vibration lasted just a bit over one second. Very good damping time considering such a light weight mount. However the vibration time almost double on concrete. Tracking the fast drifting planet at this power required a lot of turning but the slo-mo managed it pretty well.
With the legs fully extended and the scope pointing up at 60 degrees, the EP was at a comfortable height for a sitting down observation. (I need to sit due to low back pain) .I used an ordinary 45cm high stool
Even with the arm at a 45 degree sloped position, accidental toppling of the whole telescope assembly was unlikely. The whole thing started to fall back over when I deliberately lifted up the front leg 6" off the ground.
Things I like
I love the curvy design of the "C" arm. If a telescope mount could be artistic then this is it. The circles and triple curves remind me of Picasso! I reckon it is the most elegant looking arm in the current alt/az mount market.
The off-white colour with black end-plates and matt silver knobs make this mount a good match for scope of any colour.
The big thumbscrew on the Vixen style dovetail adaptor provides extremely easy and effortless scope attachment and release. It has a strong and very secure grip on the dovetail plate even in a side-on position.
Very solid yet lightweight. No counterweight required. More than capable for small refractors and even medium Maks.
Simultaneous coarse and slow motion control make finding and centering objects exceptionally easy
EP tray practical and handsome looking which could accommodate 5x 1.25" and 3x 2" eyepieces
Things I don't like
It was disappointing that the 90 degree and 45 degree arm position, once assembled, is practically not interchangeable. For instance, after viewing with a short refractor if I want to swap to a heavier Mak-Cass then I couldn't move the arm to a more stable and balanced vertical position and vice versa.
Actually the entire mount once assembled could not be dissembled into smaller compartments easily. There is no quick-release mechanism anywhere. Even the EP tray was sandwiched between the tripod head and the arm's base, secured with bolts. Storage and transport could be a little inconvenient.
The azimuth slow motion cable shaft is located in an awkward position. Every time when the scope is pointing 60 degree up or more, the eye-piece end of the scope will collide with the cable (Fig.8). Very annoying. GSO should either move it slightly to the side or simply supply with more flexible and longer cables that droop down.
The altitude slow-motion movement was a touch stiff and it wouldn't work unless the scope is perfectly balanced in the altitude axis.
Little things that could be improved
A simple instruction manual or specs sheet could be included explaining the pros & cons of the angled arm.
A round plastic cover to conceal the bolts on the "C" arm would be a nice cosmetic touch-up
A triangular accessory tray could have been included as a standard feature (yes, I am being greedy here). The tripod does look a bit bare between the legs without it.
The supplied 8.25" slo-mo cables were too stiff and short. They should be replaced with longer, more flexible ones with smaller knobs.
The EP rack's design (or lack of it) was in a way that once attached it would scratch against the azimuth knob on the far side. Reluctantly I have to remove the knob (Fig.9).


Click to Enlarge
Fig 8


Click to Enlarge
Fig 9

In Summary
I am very impressed with this mount. It has been a pleasure to use. Fit and finish is outstanding. Tripod is light but sturdy. Not just a pretty face but it performs with flying colours in terms of stability and simplicity. Quick attachment of a small scope and I am observing in a matter of minutes.
Finding and centering objects is surprisingly easy. It has everything that I needed for my grap-and-go impromptu observations, carrying my short tube refractor and 5" Mak with ease with plenty to spare (Fig.10a,b). With some minor improvements, GSO could make an already good alt/az mount even better. But at a surprisingly affordable price of under $300 I would highly recommend this mount to every small scope owner without hesitation.
Remember the rule of thumb "You have to spend as much on the mount as on the scope"? Well, there are always exceptions.
Hope you find this review helpful. I am interested to hear from others who have experience with this mount.

Review by Vincent Miu (cookie8). Discuss this Review on the IceInSpace Forum.

Click to Enlarge
Fig 10a


Click to Enlarge
Fig 10b