William Optics GTF 81mm Refractor
Submitted: Monday, 2nd September 2013 by Dr John Wilkinson
One of the most popular sized refracting telescopes is the 80 mm size, mainly because it is portable, provides good views and is reasonably priced. I was looking for a refractor of this size with quality optics that I could use to observe the night sky as well as the Sun. I have a large SCT scope and a Halpha solar scope but I also wanted one to observe sunspots (with a Herschel wedge). I was amazed at the build quality and appearance of a William Optics refractor at a star party and thought I have to have one.
The latest William Optics (WO) refracting scope is the Grand Turismo 81mm apochromatic telescope (GTF81). In Australia (2013) the OTA retails for about $1300. I got mine from Astro Shop in Queensland and once it was ordered from William Optics the delivery/service was very quick into Australia (less than 2 weeks).
First Impressions
The stunning new scope has a pristine powder painted white CNC-machined aluminium tube with anodised red outlines. It looks and feels extremely classy. My first impression was – this has got to be a classic telescope worth collecting and keeping.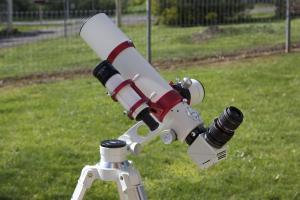 Click to Enlarge
The William Optics 81mm GTF scope attached to a GSO Skyview alt-azimuth mount.



The finder scope is an 8 x 50 mm GSO brand (brought separately) attached via the supplied rings on the handle of the scope. This set up is extremely solid and stable.
Optics
The new GTF 81 features 5 optical lenses in two groups – there is a triplet apochromatic lens system at the front with a two-element field flattener inside. The triplet is made of FPL-53 glass of super low dispersion that reduces any secondary spectrum to a very low degree. The second group of lenses (flat field corrector) corrects the edge of flatness to the best quality (it combats both chromatic and spherical aberration). Each lens is fully multicoated with a special super high transmission coating (STM) on all surfaces. Focal length is a fast f5.9 which makes it suitable for astrophotography. There is a lens shade or dew shield at the front that is retractable/extendable with a locking screw. This is very effective at cutting out extraneous light as well as stopping dew from forming on the front lens.
The scope has a matt black finish inside, but also has a single knife-edge baffle and a large area of flocking in the front part of the optical tube, to further reduce stray light.
No eyepiece is provided but I use my Baader Hyperion and Meade Ultrawide angle eyepieces with no trouble. A well-crafted 2" WO dielectric diagonal can be fitted to the focuser at an extra cost of around $120. An adaptor provided with the diagonal allows 1.25" eyepieces to be used as well.
Focusing
The WO scope has an extra smooth 360° rotatable 2" rack and pinion focuser with 1:10 dual speed knob. The travel length of the focuser is 80 cm (3.15"). The Digital Display Gauge (DDG) allows you to take precise focusing readings down to two decimals precision instantly. The focuser comes with two locking screws on angled positions for heavy load applications. By loosening a locking screw on top, the focusing assembly fully rotates 360°.
There is another lock beneath the focuser to keep it from slipping once a sharp focus has been achieved. Another nice touch is a thermometer installed in the focusing knob. Both 1.25" and 2" eyepiece adaptors are provided with brass compression rings.


Click to Enlarge
The eyepiece end of the scope is shown here with a Baader Herschel wedge attached. There is also a thermometer on the focusing knob. The DDG focusing aid gauge is a feature of this WO scope.


Click to Enlarge
The L shaped mounting bracket is extremely solid.

Mounting
There is a solid carrying handle mounted on top of the tube with a V-shaped night glowing illuminator. This can serve as a finder, especially if observing the Sun (use the V shaped shadow on your hand to align) or observing the Moon. Alternatively, there are two 90 mm mounting rings (for a finderscope) that can be easily attached to the handle. I found the handle extremely solid and useful for moving the scope around.
The base of the scope has a very solid L shaped bracket that attaches directly onto a standard Vixen dovetail saddle (see Photo 3). The bracket also has two 1/4-20 threaded holes in its base for attaching to a tripod head. I attach my scope to a GSO Skyview altazimuth mount via the L shaped bracket and it is an extremely rigid set up. This mount costs about $280 in Australia.
Specifications
Aperture: 81 mm
Focal length: 478 mm
Focal ratio: f5.9
Objective: 5 element with FPL-53 air spaced (2 groups). Fully multicoated (STM).
Resolving power: 1.43 seconds of arc.
Limiting magnitude: 12.2
Lens shade: Retractable
Focuser: Extra smooth 360° rotatable 2.5" rack & pinion focuser with 1:10 dual speed, travel length 80 cm (3.15").
Tube length: 440 mm (484 fully extended).
Tube diameter: 90 mm
Tube weight: 3.7 kg
How well does it work?
Apart from looking extremely elegant, the usefulness of any scope is in how it works on a variety of astronomical objects. I mainly use my GTF81 scope for observing sunspots via a Baader Herschel wedge and it works extremely well – nice crisp images of the spots and sun are obtained right across the field of view. I use a 2" Baader Herschel wedge to observe sunspots and the views are superb. I can see granulation and detail in the sunpots.
Imaging is done through my Canon 550D SLR camera that attaches easily to the Baader Hyperion eyepiece. See review of the Baader Herschel wedge in the accessories section of this web site.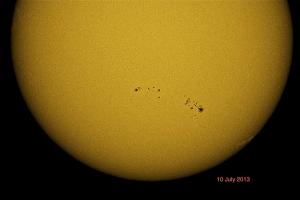 Click to Enlarge
Image of sunspots taken through the WO 81 mm GTF scope with a Baader Herschel wedge attached. Single exposure with a Canon 550d camera.



At night the Moon has a nice sharp appearance, with only a slight bluish colour around the perimeter of the Moon.
Stars are pinpoint from the centre to 75% of the edge of field. Beyond 75% of field of view there is only slight distortion. This does however depend on the quality of the eyepieces you use. Also suitable for star clusters and bright nebula.


Click to Enlarge
View of the scope from the front showing the objective lens and dew shield with the finder scope on the right.


Click to Enlarge
Side view of the scope showing mounting and dual speed focuser.

Pros
Extremely well made, solid and portable scope. Got to be a classic!
Very good optics with useful aperture.
Can be used for observing a wide range of astronomical objects.
Dual speed Crayford focuser is excellent.
Useful carrying handle with attachable finderscope rings.
Can take 2 inch eyepieces as well as 1.25 inch size.
Cons
Need to buy eyepieces, finderscope, diagonal and mount.
Slight distortion of star shapes near edge of field.
In conclusion…
Overall I am extremely happy with my William Optics GTF 81 mm scope. It is one that can be easily dismantled and carried out into the field for observing at night or during the day. Even attached to the altazimuth mount, I can easily carry it from inside to outside and be ready to go in minutes. The aperture allows you to obtain full disc views of the Sun and Moon. You do not need an equatorial mount if taking short exposure photographs. An ideal equatorial mount however, would be an EQ3 or EQ5.
Overall I highly recommend this scope and its WO accessories if you are looking for a quality and versatile scope that can be easily moved about and taken on field trips. It's a scope to admire. Other apertures are available in this series.
Notes:
The author of this review is Dr John Wilkinson – science educator and author of science/astronomy books. He operates an observatory from Central Victoria in Australia. His website is http://astroscimac.com.
Disclaimer: In closing, I should mention that I have no affiliation with William Optics or the Australian supplier – MyAstroShop (there are other Australian suppliers), other than as a paying customer.
Thank you for reading this review – any useful comments are welcome and can be placed in the discussion forum of this web site.

Review by Dr John Wilkinson (John W). Discuss this review on the IceInSpace Forum.