Orion XX14i Intelliscope Truss Tube Dobsonian
Submitted: Monday, 5th September 2011 by Rick Petrie
Introduction and Background
As I haven't seen any reviews of this telescope in Australia , I thought I would give a review and provide my personal impressions, having owned and used this scope for 9 months now. I must add that I have no affiliation with Orion telescopes or any other product mentioned herein.
Over the previous 5 years, I had owned a 10" GSO dobsonian telescope, which was an excellent scope with good optics, but I was looking for a larger aperture telescope that would still be portable, but give better views of DSO's and have a reasonable price tag. One of the things I wanted, was the ability to stand at the eyepiece comfortably when at zenith and not have to fuss with steps or ladders to achieve this. I also was looking for a scope that was robust, of good build quality and have quality optics.
After looking at a number of similar scope options that seemed to meet this criteria, I settled on the Orion 14".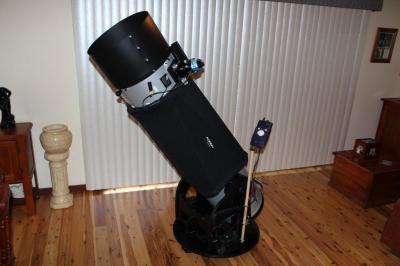 Click to Enlarge
The Orion XX14i Intelliscope Truss Tube Dobsonian - fully assembled with dew shield, shroud, Argo Navis and stalk



Purchasing and Details
At the time of purchase there were no dealers that had a display of the product to inspect, so I had to order and have the scope imported from the USA through Astro Optical Supplies at Artarmon in Sydney. It took approximately 2 weeks to arrive and I opted to pick up independently in Sydney to save on delivery costs. Living interstate, a courier delivery would be the likely best option.
The whole package arrived in three reasonably large boxes that fitted comfortably within my 4wd vehicle. (however, if I only had a small car it may have been necessary to have it delivered by courier or borrow a small van).
The package in total came to $3200 AUD, which included padded carrying cases for both the OTA sections and truss tubes together with an elasticized shroud (I would recommend obtaining these additions to aid in the transportation and general protection of the scope.) The above price may be less now, considering the current exchange rates.
The scope is packaged in the boxes very well, and all parts listed were intact. The instruction booklet is excellent and probably the best I have seen for ease of assembly directions and overall clarity.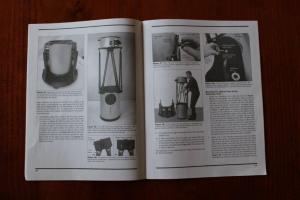 Click to Enlarge
Easy to read instruction booklet


The intelliscope has a handheld computerized object locator (similar to Argo Navis) and the hardware is incorporated as the scope is assembled. If one follows the instructions diligently, the assembly should not be a problem. The intelliscope system is quite user friendly, relatively simple to use, and provides reasonable accuracy in locating objects by manually pushing the scope in directions and amounts shown.
One of the main attributes of this scope is that the base diameter measurement of 735mm will allow passage, with the base fully assembled, through a standard door opening. A unique feature of the base structure also, is that it can be disassembled without tools into a manageable package that can be transported in the boot or rear seat of a small to mid sized sedan. All attachment bolts are captive and assembly/disassembly of the base can be done in a couple of minutes. The entire scope can be assembled in approximately 15- 20 minutes and the complete disassembled telescope can be easily transported, with carrying cases, in your average to small sedan.
Full specifications for the XX14i can be found on Orion's website and I won't elaborate here.

Click to Enlarge
The assembled base ready for the OTA


Click to Enlarge
The disassembled base ready for transport


Click to Enlarge
Assembled base with carry bags containing the OTA?s and truss tubes ready to transport


Click to Enlarge
Upper OTA showing secondary mirror and spider veins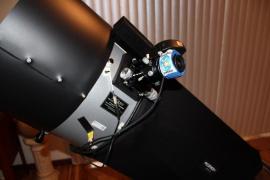 Click to Enlarge
Upper OTA showing recent modifications


Construction and Build
The quality of this scope's construction and build quality is probably better than the comparable similar collapsible truss brands in this range eg. Skywatcher, Meade Lightbridge and GSO. The Orion scope has eight truss poles for support of the upper OTA, as against six and three on the others, thus making it stronger and more rigid. The base is constructed in 25mm thick veneer laminated compressed particle board as against 18mm on other brands, and the sides are webbed for additional strength against lateral flexure.
The scope comes standard with a 2"crayford, duel speed 11:1 focuser which is very sound in construction, smooth movement with no slop in the barrel.
The telescope is well balanced when fully assembled with three screw on attachable weights for counterbalance in the OTA base assembly. A tensioning screw at the side of the base allows smooth altitude adjustment against three teflon pads, for additional eyepiece weight balance.
The primary mirror rests on an eighteen point cell which is constructed for full flotation and sits snug on it's mounting points with an easy adjustment system for removal and replacement.
The telescope comes with a typical azimuth bearing system with ebony star laminate on virgin teflon pads.
Firm fitting dust covers are included for both upper and lower OTA.
The elasticized black nylon shroud fits nicely over the exterior of the truss poles to prevent stray light from entering the open truss section of the tube and also helps prevent dew from forming on the optical elements of the telescope.
A cooling accelerator fan for the primary mirror is standard to help in cooling the mirror to ambient temperature.
Optics
Both the primary mirror and secondary mirror are pyrex glass with low thermal expansion.
Considering that the mirrors are mass produced, their optical standard is first class and exemplary views can be obtained ( something that I was concerned about when first deciding to have the scope imported without seeing the quality beforehand). Having used the scope for 9 months now and having a number of experienced observers look through the scope, it is without doubt, the optics are second to none.
Adjustment of the optics for precise collimation are very easy with the standard set and locking screws.( The primary knobs are large, however 'Bob's Knobs' or equivalent could be obtained to help with ease of adjustment of the secondary mirror).
Conclusions, Modifications and Summary
During the time I have had with the scope I have noted a few things that could be improved and modified to make the scope a little better than standard. This being said, there is nothing wrong with the scope out of the box and it will give the owner many years of wonderful viewing.
As all dobsonian enthusiasts will testify, the azimuth movement on most scopes can be improved, and I found that the movement on this scope was a little too firm. What I did, was to increase the size of the bearing surface by using larger teflon pads on the base. This helped to spread the weight over a larger surface area. We're only talking approximately 20% larger pads, and this, together with polishing the ebony star laminate with a silicon/ teflon liquid car wax(Kitten No1) polish made all the difference and the movement now is much smoother.
The original object locator on the scope is quite satisfactory however I was finding that it just wasn't centering objects the longer the night progressed and when using higher powered eyepieces. Also the bright color of the display and having to insert batteries regularly was a little daunting.
Having had a computerised Argo Navis (AN) on my previous scope, I investigated the possibility of installing the AN on the Orion XX14i. With some good advice from the manufacturer of the AN, I went ahead and installed some additional hardware to the scope and have had very good results since, and these additions are not obtrusive to the original setup. If ever I needed to part with the scope, I could return the intelliscope to its original configuration with the object locator.


Click to Enlarge
Argo Navis and stalk


Click to Enlarge
Argo Navis altitude encoder hardware

I have also investigated and installed a dew prevention system on the scope. Most telescope owners would agree that dew amelioration is just about a 'must add' to your scope in view of how your viewing night can be thwarted by excessive moisture settling on the optics of your scope. Unfortunately though, all telescope dealers don't provide this option as standard. The type of prevention needed is usually a personal decision and can be added quite easily. I have also constructed a plastic slide on dewshield for the top section of the OTA.
Other personal modifications I have made to the scope include a 'Moonlite' focuser, which I already owned, additional felt covered magnetic weights to counterbalance the use of a 'Paracorr' and heavier eyepieces. I have also made adjustments to improve airflow around the primary mirror and cell along the lines of a review by Scott Tannehill on his 12" GSO scope in the review section here on IceInSpace.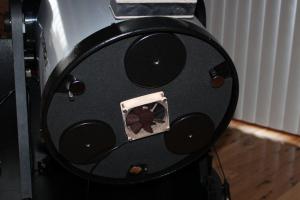 Click to Enlarge
Primary collimation screws, counterweights and computer fan mounted on ?floating? neoprene rubber pad


The Orion XX14i intelliscope is a 'push to' dobsonian and I generally like this configuration, however if people are more into 'goto' systems, Orion make the XX14g model which have a number of additional features for the 'goto' enthusiast.
It should be noted that the lower tube assembly housing the primary mirror and cell is heavy (50lb) and although not a problem for myself to lift in and out of a vehicle it should be a consideration before any commitment to this scope (probably no heavier than any other brand of telescope in this size category).
So, to sum up my thoughts on this telescope, I would have no hesitation in recommending the OrionXX14i for its quality, value for the price, and sturdy construction. Orion have obviously thought long and hard about the construction of a collapsible dobsonian that is easy to setup and transport and in some ways comparable to a more 'highend' type of scope.
Review by Rick Petrie. Discuss this review on the IceInSpace Forum.