SkyWatcher 10" Dobsonian
Submitted: Wednesday, 1st April 2009 by Anthony S
I got my skywatcher on Thursday afternoon, but couldn't put it together until Saturday (was killing me). Here is my thoughts and ideas on how to improve the scope from a newbie point of view.

The scope looks great, professional etc, everything you want from a scope.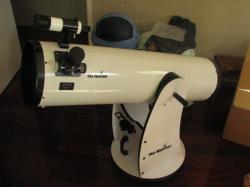 Click to Enlarge
SkyWatcher 10" Dobsonian


It has all the features that the web site http://www.skywatchertelescope.net says it would have. Mine didn't come with those plastic screw cover things but I personally don't really care.
The Base
Base looks beautiful and practicable but I would recommend 2 people to put the base together. Im not saying one person can't put the base together but it will be a lot faster if two people put the base together.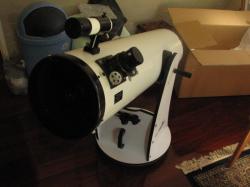 Click to Enlarge
Front View


The scope is just pure class, Ive falling in love with it. I took it out Saturday night to look at the stars and invited a friend over to look as well (my excuse to show off as well).
He loved the scope, and we looked at Orion Nebula when the clouds didn't come rolling in (bloody clouds) and it was stunning to look at. Then when the clouds came in and we could still see the moon we looked at that and it was better than I can remember when I use to look through my dad's scope. Im going to have fun with this scope.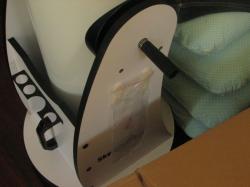 Click to Enlarge
Bag for the handles


Now the bad things on this scope.

I had to put the bag (shown above) to put the handles somewhere when/if I transport this beast somewhere which I wish that sky-watcher put somewhere to put the handles.
The only other problem is that the finder scope is too close (for me) to the main scope, so when I try to line up something I kept bumping the main scope with my fat head. My friend told me how to turn the scope into a search light with just a flash light so we found our stars using this method instead of using the finder scope.

All in all I would recommend getting this scope to ANYONE but also get a Barlow as well to make your viewing more enjoyable.
Review by Anthony S (h45e). Discuss this Review on the IceInSpace Forum.