Williams Optics Megrez 90
Submitted: Friday, 19th December 2008 by Mick Pinner
After a lot of research looking at and through the new range of 90-100mm refractors l finally purchased a William Optics Megrez 90.
l picked the new scope up from Astronomy Alive in Melbourne, ( l have no affiliation with this company ) and it came as most quality scopes do now, in a well made aluminium foam lined scope case complete with the W.O logo.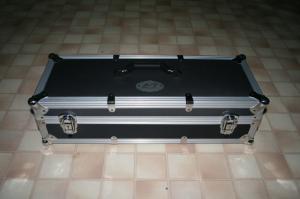 Click to Enlarge
Scope Case


The scope is described as an air spaced doublet using FPL-53 glass with a focal ratio of F/6.9, with the focuser racked all the way in and the dew shield fully retracted it is a compact 456mm long, with the dew shield extended it is 562mm and the focuser has 80mm of travel.
First impressions of the scope are quality, from the white finish and gold trim to the excellent mechanics.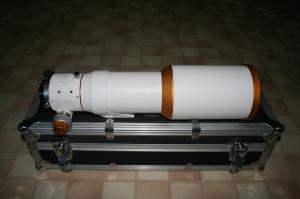 Click to Enlarge
Optical Tube Assembly


lf you are looking for a medium sized refractor for visual work, astrophotography, as well as being a compact travel scope then this may fill all those needs, the sliding dew shield is a delight and stays put even when in a full vertical position and gives enough lens cover to keep dew at bay for all but those very moist nights.
Moving to the focuser, it is a 360degree rotating unit with 10:1 reduction that l can only describe as excellent. The graduated scale on the drawtube is another good feature that will aid refocusing with astrophotography, it is complete with a 1.25" ep holder and brass compression ring.
NOTE: When l first tested the focuser on this scope there was a little play when rotating the unit, however a slight tightening of the 3 grub screws saw it become buttery smooth.
The optics in the scope are described by William Optics as apochromatic, there seems to be a lot of opinions as to what constitutes a true apo and l suppose each owner of one of these scopes will make up their own mind depending on what experience they have with other apochromats as to how well this scope stacks up. Having limited experience with high end refractors l can only go on my visual experience with this particular unit and l must say the colour correction is excellent. Having had a chance to view some bright objects such as Jupiter and the Moon l could see no false colour whatsoever when properly focused and the slightest hint when either side of focus.
The contrast and clarity is also superb with some of the best visual observations of the before mentioned objects l have seen.
ln summary l am very happy with this scope, it delivers all it's advertised features beautifully and l would have no hesitation in recommending it to anyone that wants a medium sized scope that will deliver in whatever area the owner requires.
Review by Mick Pinner (mick pinner). Discuss this Review on the IceInSpace Forum.