8" Lightbridge
Submitted: Wednesday, 16th July 2008 by Brian Waddinton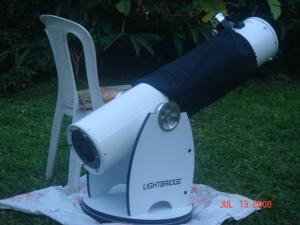 Click to Enlarge
8" Lightbridge showing Crayford style focuser, polished aluminum bearings, shroud(accessory), overall size and quality of construction


I am not associated with any manufacturer or retailer of astronomical gear. I do live in the Philippines so the cost of shipping was a factor on our decision of what to buy.
Our first telescope was an Orion 4.5 Reflector on an Eq. mount. We have had the use of a Celestron 8" SCT. These telescopes taught us that we (my wife and myself) wanted to upgrade to an 8 or 10" telescope with a rich field capability matching the 4.5, which would be easier to use than the SCT but would give us equivalent detail. DSO's are interesting for us so we also felt a need to move to a higher limiting magnitude. We also found that we preferred a straight through finder.




Click to Enlarge
Finder is well constructed and has 7 power settings plus 4 indicator shapes


We were leaning towards an Orion Classic Dob mounted reflector but when Meade lowered their price on the 8" LightBridge we bought the LB. It came with a decent 2" 26mm eye piece, a fan, and a straight through finder. If we had bought the Orion Classic and upgraded it to match the LB it would have had a higher price. The final deciding factor was that the LB fit the airlines baggage requirements while the Orion was 'over sized' and would have cost significantly more to bring to the Philippines.
Assembly
Both my wife and myself are what a kind person would call mechanically challenged. However from start to finish assembly was easy and straightforward with no pieces missing and all pieces fitting together snugly and accurately. Total time was approx one hour with no swearing or fighting.
Collimation
Once assembled I checked the collimation and found the secondary was either very close or right on but that (not surprisingly) the primary needed adjusting. I used the 1 1/4 " collimation cap" that came with the Orion (none supplied with the Meade) and in about 5 minutes it all looked good. I have read that many people upgrade to Bobs Knobs or an equivalent but neither my wife nor myself have any trouble using the stock knurled knobs. Doing a star test at @180x the circles were round and the center spot was in the center.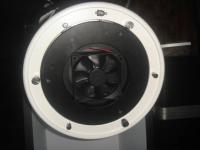 Click to Enlarge
Knurled knobs for collimation and locking, fan with plug in for battery pack


Movement
I have never had the privilege of using a premium Dob mount but the LB moves easily in all directions and once you stop moving it, it stays in position. There is no balance problem with either the 1 1/4 or 2" eyepieces.
Optics
I am a retired pastor rather than an optician so a scientific review of the optics is just not possible. However I have viewed the Swan Nebula and at 180x it was a graceful full-bodied Swan gliding through the heavens. Boo XI was an easy split at 180x with a large golden star plus the tinier blue one easily seen. The famous double double in Lyra was four distinct marbles while the Ring Nebula was a definite smoky blue donut albeit without a center star. We also enjoyed watching a Ganymede transit which was a distinct black dot moving across the face of Jupiter. Finally, even though the Rings of Saturn are not at a particularly favourable angel right now the Cassini division was visible.
Undoubtedly there are better mirrors out there but the one in the LB has lived up to our expectations.
Overall Impression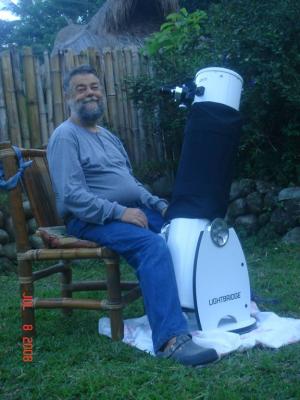 Click to Enlarge
ONE VERY HAPPY OWNER


We like the telescope. It has a good rich field and with the shorter F/L and lower F/R than the SCT what we are observing stays in the FOV a lot longer. It is easy to use and well constructed. It does everything that the advertising said it would and with our dark skies that is quite a lot. While Meade is certainly going though internal problems right now our telescope came with all the bits and pieces, they all fit and they all worked.
I have read many reviews and statements about the 'needed' mods and fine tuning that one must do to make the LB work properly... all I can say is that right out of the box and with a small tweak of collimation this telescope has performed very well for us and that we are looking forward to completing the Herschel 400 with this scope.

Review by Brian Waddinton (Brian W). Discuss this Review on the IceInSpace Forums.