Bintel BT-302 12" Premium Dobsonian
Submitted: Monday, 25th June 2007 by Duncan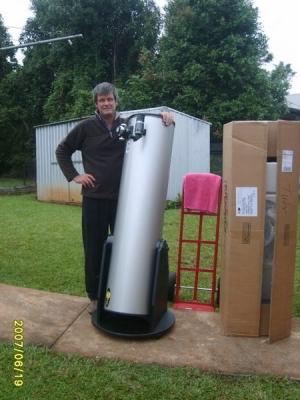 Click to Enlarge
Me with the 12" GSO Dob



After much thought on what I wanted from a telescope and what I would like to do in the future, I decided on the large Dob. I wanted something that would give me mind blowing views of the Planets and bright DSO's as well as being able to look at Galaxies and the feinter DSO's that others talk about. Taking all of this into account I also gave thought of Astro-Photography into the future and on seeing the success of Sir Iceman with his Dob made up my mind.
Cost
While most of us realize that value for money, Dobsonians deliver far greater Aperture for visual use one still has to factor in all the associated costs. One of the largest cost factors for myself was freight. As I live in Far North Qld. I new this was going to be steep, so I tried to shop locally. To my dissappointment the local shop could not or would not compete. So I started ringing around down south. My first quote was over $600.00 for freight, 2/3rds the cost of the scope!!!.
Finally Bintel in NSW. to the rescue. Here is a breakdown of the cost delivered to me.

1 Bintel BT302 12" Premium Dobsonian telescope------------- $899.00

1 Bintel Barlow 2x ED (2") -------------------------------- $ 99.00

1 Orion collimating eyepiece------------------------------- $ 69.00

Freight --------------------------------------------------- $300.00

TOTAL ------------------------------------------------------$1367.00
Now I'm in business. 12" scope for under $1500.00 you little ripper.
Size
Now I new this scope was big but boy I was in for a surprise!.When it arrived I couldn't believe my eyes. This thing is huge! When I opened the box containing the tube I just stared at it for 5 minutes.
I couldn't wait to get it assembled. OK forget the tube for a moment and open the box with the base in it. Everything looked ok, No Damage. But hang on! No Instructions, bugger. No matter -look at a picture and just put it together. No problem and after about 30 minutes, done. Now gently get the tube out of the box and sit it onto the base and bugger me there's the instruction booklet for the base in the bottom of the tube box, LOL. You idiot I thought to myself, should have checked everywhere.
The tube was packed very securely and no damage was the result after travelling at least 2000 miles. Well it's all assembled and looks like a water heater for the house. Now just sit and stare at it for another 30 minutes.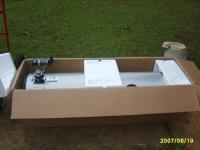 Click to Enlarge
Packed securely


Weight
At 35 kilos all up it can be a handful to move around. But a quick trip into town to by a barrow (hand-truck/trolley) for $50.00 and problem solved. Warning!- If you don't want scratches on the tube, make sure to put a towel or blanket between tube and barrow. 2nd WARNING- Be very careful going through doorways so as not to knock the finder scope or eyepiece holder. Yes I found out the hard way, although luckily no serious damage just had to re-align the finder.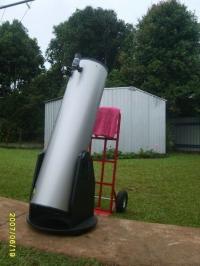 Click to Enlarge
Towel on the hand-truck


Collimation
This scope did not need much adjustment at all. Enough has been written and discussed about this subject on this site. Read Don Pensack's fantastic article - Collimation and the Newtonian.
The Views
OK this is what you all want to know about but first the scope came with 3 eyepieces:
Bintel SP32mm (2")
Bintel Plossl 15mm (1.25")
Bintel Plossl 9mm (1.25")
Crayford Focuser is standard on the Premium Dob.

Click to Enlarge
Eyepieces


Click to Enlarge
Eyepieces

Well outside we go and lets find something to look at. Plenty of moon glow but I wanted to see M42 (Orion Neb) so I lined it up in the finder, took a breath and looked through the 32mm eyepiece. OH MY GOD!!!. It was simply breathtaking. Miles of greenish greyish nebulosity. It was simply stunning. Being greedy I had to try the 15mm eyepiece. The Trapezium was huge. Definitely not what I remembered from a 4" Tasco reflector. Still being greedy I dropped in the 9mm eyepiece, unbelievable!!. I had completely forgotten the 2X Barlow that I bought. OK over to Saturn to see her in all her majesty. I was not disappointed and up went the magnification, as far as I could go (364X).
Yep it was hard to keep in the field of view but damn it was great. The detail was incredible. Cassinis div. easily seen and banding on the planet, and moons so easily resolved. Ok I had to look at Jupiter but she wasn't up yet, Well not above my treeline. GLOBS, Holy Cow I've never seen them look so clear. Some not all, visually resolved way down deep. This was just Awesome. Well Jupiter finally came into view and I was disappointed. No Red Spot. Ah well just spend time watching her dance across the sky with all her kids in tow. 5 that I could see as well as a heap of banding. I was just dumb founded, why did I weight so long to get back into this hobby?!.
Well I'm stuffed so time to go, I'd swung the scope around but thought one last look through the 32mm eyepiece and damn, right in the middle a big long piece of fuzzy stuff. A Galaxy somewhere in Leo.Don't know which one and to tired to care. What a Day/Night.
To sum it all up. I'm very happy with the scope, it is very easy to use. It arrived in perfect condition. And last but not least, the help from the staff at Bintel was magnificent. NB (I have no affiliation with Bintel other than having bought this scope from them.)
Thanks also to the members of IceInSpace for their wonderful advice.
Review by Duncan. Discuss this Review on the IceInSpace Forum.