Guan Sheng GS-500 6" f5 Telescope
Submitted: Friday, 9th February 2007 by Rick Parrott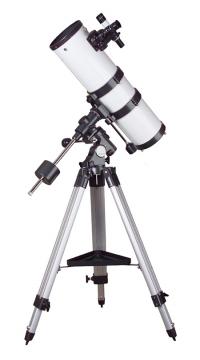 Click to Enlarge
Guan Sheng GS-500 6" f5 Telescope


Always an avid fan of anything to do with space, it was only when my lovely wife bought me a 4" reflector telescope for my 40th birthday did I get hooked on astronomy in the backyard! 5 years on and I sent a friend to Andrews Communications over at Greystanes (where we bought my first scope) to get his first one, and they had a special on the GS -500. I couldn't refuse!
Equipment
The scope is packaged securely (lots of boxes for the recycle bin!), the manual is basic and offers some interesting and amusing translations, but in all everything went together well (having put one together before certainly helped!). The 'scope came with a 9 and 25 mm super Plossl, to which Andrews added a 6 and 15 mm. The 6x30 Finder scope seems of a good quality (though I think I will go for a red dot finder like I've got on my smaller scope, just because I like them!) and I find it is easy to adjust/recalibrate. A polar alignment scope is included - keep it tucked away for that next visit to the northern hemisphere (not much use for us "southern" folk). The 'scope also has an accessories tray and a moon filter. The dust cap that goes on the eye-piece is a bit dodgy (falls out easily), that is really the only thing I wasn't as fussed about.
The slow motion controls are very smooth, and it makes it easy to follow objects. The bands that lock the tube in place are secure, and undo easily when you need to rotate the tube for different viewing positions. The 'scope was pretty close to "spot-on" with collimation (I already have a collimation eye-piece with cross-hairs). The aluminium mount is secure, and as very solid. The assembled 'scope is heavy but not impossible to move carefully around.
In Use
Well, I can only compare with my old 4", but it seems "chalk and cheese" to me. We only bought this late in 2006. Remember, so far we only have ever used this in my backyard in suburban Milperra, but things like the Orion Nebula are brilliant! Things I've now found include 47 Tucana, Eta Carinae, M6 M7, M41, Uranus and a few things starting with NGC! The moon - well it's breath-taking! I've really improved in finding stuff, and the new 'scope has certainly increased our enjoyment of observing. Last week we waited up for Saturn (almost midnight due to the number of trees), and I could see the Cassini division, plus some grey bands across the planet face, at least 5 moons! This was with the 6mm and the X2 Barlow. It was great! Saturn looked like a black-and white planet out of a 1950's sci-fi picture!
Please keep in mind my limit in experience with bigger or better scopes, but we love it! This is an affordable 'scope, and I can see many years of enjoyment ahead. The folks at Andrews are always of great assistance, and also have all the "bits" (accessories that we all love) too!
Some extras!
BIG RICK'S TIP # 1 - Buy a cheap ($2.00) soft plastic chair cover from a junk store (the covers for those plastic garden chairs that stack)- this covers my entire scope right down to the feet and keeps all the dust off (seeing ours is stored in the garage).
BIG RICK'S TIP # 2 - Glow-in the-dark stickers (stars, of course!) are good stuck on outside of lens caps, dust caps etc. to find them in the dark!

Review by Rick Parrott. Discuss this review on the IceInSpace Forum.