Successful First Steps Back the Moon
Successful Orion Rocket Launch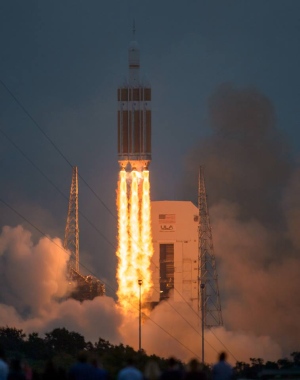 NASA marked a major milestone Friday as the Orion spacecraft completed its first voyage to space, travelling farther than any spacecraft designed for astronauts has been in more than 40 years. "Today's flight test of Orion is a huge step for NASA and a really critical part of our work to pioneer deep space on our Journey to Mars," said NASA Administrator Charles Bolden.
See video footage of the splashdown here.
The next launch is scheduled for 2018, unmanned again, it will circle the Moon. And if all goes well, the first manned mission is planned for 2021.
Sky & Telescope have done a comprehensive article with great pics including one that Orion cameras took of Earth from Space. Read it here.
- Suzy
Image Details:
The United Launch Alliance Delta IV Heavy rocket, with NASA's Orion spacecraft mounted atop, lifts off from Cape Canaveral Air Force Station's Space Launch Complex 37 at at 7:05 a.m. EST, Friday, Dec. 5, 2014, in Florida. The Orion spacecraft will orbit Earth twice, reaching an altitude of approximately 3,600 miles above Earth before landing in the Pacific Ocean. No one is aboard Orion for this flight test, but the spacecraft is designed to allow us to journey to destinations never before visited by humans, including an asteroid and Mars.
Photo Credit: NASA/Bill Ingalls
New Horizons Wakes Up on Pluto's Doorstep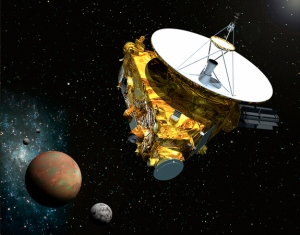 After a voyage of nearly nine years and three billion miles —the farthest any space mission has ever traveled to reach its primary target – NASA's New Horizons spacecraft came out of hibernation on Dec. 6th for its long-awaited 2015 encounter with the Pluto system.
Operators at the Johns Hopkins University Applied Physics Laboratory in Laurel, Md., confirmed at 9:53 p.m. (EST) that New Horizons, operating on pre-programmed computer commands, had switched from hibernation to "active" mode. Moving at light speed, the radio signal from New Horizons – currently more than 2.9 billion miles from Earth, and just over 162 million miles from Pluto – needed four hours and 26 minutes to reach NASA's Deep Space Network station in Canberra, Australia.
"This is a watershed event that signals the end of New Horizons crossing of a vast ocean of space to the very frontier of our solar system, and the beginning of the mission's primary objective: the exploration of Pluto and its many moons in 2015," said Alan Stern, New Horizons principal investigator from Southwest Research Institute, Boulder, Colo.
Read more on Science@NASA by Dr Tony Phillips
SOARING - Northern Lights from Norway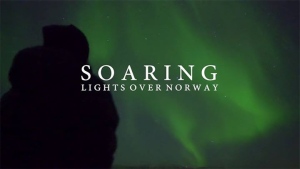 This incredible 5 minute video has to be one of the best Aurora videos we've seen to-date. It was shot in Norway by photographer Ole C Salmonsen, using a Sony A7s camera. He says "All sequences are realtime video, no timelapse used. This film shows the auroras how they really are in real world, not like in most timelapses where they flicker in ridicilous speeds over the screen."
Drop what you're doing, and watch it now on Vimeo.

Thanks for reading! Keep looking up!