Eclipse Countdown - Final Days!
Wow with only just over a week to go, the excitement continues to build. Some people making road-trips to Cairns have already left and no doubt others will be leaving later this week to get there in time.
Everyone is watching the weather, hoping for clear skies on the morning of the eclipse.
Here's a selection of some new and interesting threads for this week:
If you're still in need of eclipse glasses, I still have stock but it's running out fast. All orders must be in by midday on Friday 9th November, and any orders this week will be sent express post.
Eclipse Glasses for $4 each or $3.50 each if you buy 4 or more.

Image credit: Steve Russell.
2013 'Astronomy' and 'Sea and Sky' Calendars look great on any wall
These two calendars are a visual treat - full of beautiful images and packed with resources for star gazers, amateur astronomers or anyone with a casual interest in the night sky.
Both calendars feature bonus pull-out centre pages with planet and moon rise/set times, and the Astronomy calendar has 2 great posters featuring the finalists in the IceInSpace Calendar Competition. The Sea and Sky calendar also has tide charts for NSW, QLD and VIC.
Order online at the IceInSpace Shop -
If you order 2 or more calendars (including mix and match), you'll receive a 20% discount, as well as free IceInSpace Stickers for every calendar!
One for you, one for your friend. One for work, one for home. One for each of your seventeen brothers, sisters, cousins, aunts and uncles ;)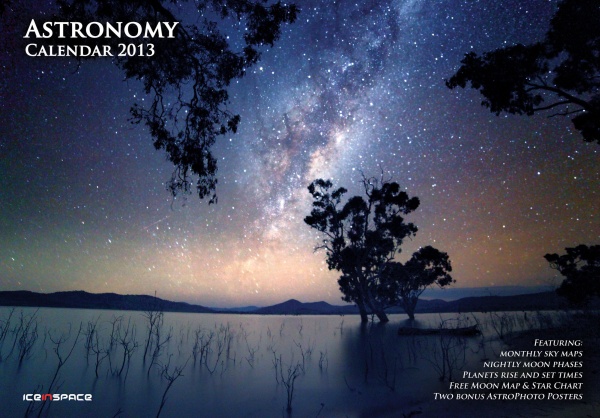 Buy online at the IceInSpace Shop.