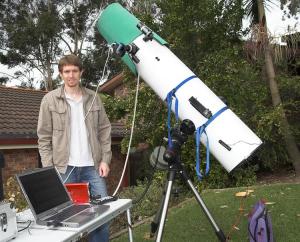 Click to Enlarge
Mike and his 12" newt



Mike Salway lives on the Central Coast of NSW, Australia (Lat: 33.4 deg South, Long: 151.4 deg East) and started in astronomy in March 2004. He founded IceInSpace in September 2004 with Terry Mohan.
His first telescope was a 10" dob, bought in July 2004 and became interested in solar system astrophotography later that year. After persisting with non-tracking photography for about 9 months, he bought an Equatorial Platform in June 2005 and his results steadily improved as his techniques for capture and processing improved.
In December 2006, Mike upgraded to a 12" newt on an EQ6 mount and is now considered one of Australia's best lunar and planetary imagers. He still enjoys visual observing at monthly new moon meets through his friend Rod's 20" SDM, and enjoys dabbling in deep-space photography with an ED80 and a Canon 350D.
Mike is often invited to speak at Astronomical Society meetings about his planetary imaging techniques. If you'd like Mike to speak at your astronomy society, please contact him.
As a day job, Mike works as a Technical Team Leader in IT in Sydney, NSW.
Gallery
Articles
Picture of the Day / Feature Image
Awards
Publications
Interviews / Speaking Engagements
Other
Contact
Mike can be contacted via email on (This e-mail address is being protected from spam bots. You need JavaScript enabled to view it) or for IceInSpace members, through the forum Private Message interface (username: iceman).
Hobbies
Apart from Astronomy, Mike's hobbies include:
Family
Mike is married to his wonderful wife, Kate, and has three beautiful children - Jacob (9), Eliza (7) and Abbey (4).

Click to Enlarge
Eliza, Jacob and Abbey - April 2007


Click to Enlarge
Jacob, Eliza and Abbey - April 2007