IceInSpace Milestones, Image of the Week and more..
Hi all
In the past 2 weeks we've celebrated a couple of fantastic milestones here at IceInSpace.
We passed 8000 registered members on the IceInSpace Forum
On September 13th 2010, we celebrated our 6th Birthday! 6 years to the day since IceInSpace was launched!
The milestones themselves aren't the most important factor to Terry or I or our community, but we like to acknowledge them and see them as a great opportunity to celebrate and recognise our fantastic community. We wouldn't be here without you and it's only thanks to you that we have a place that's worth coming back to, day after day, week after week, and the enormous wealth of information on the site and in the forums is thanks to your contributions.
It's also rewarding to continue to see the site go from strength to strength, to continue growing and know that every day we're helping newcomers into the hobby and helping people discover the wonders of our fabulous hobby of Astronomy.
Here's to the next 1,000 members and the next year of IceInSpace!
Thanks again for all of your support. This community is just one big extended family to me! You can share your thoughts in this forum thread.
Image of the Week
In case you weren't aware of our Image of the Week page, once a week I choose an image that has been posted in our Solar System or Deep Space forums that really appeals to me.
It's featured here on the homepage of IceInSpace, but all previous IOTW's can be seen on our IOTW page where you can browse by date, year or filter by author.
I also upload it to the IceInSpace Facebook page where you can Like It and Share it with your friends. Have you Liked IceInSpace on Facebook? Over 1050 people have so far - please join them and share with your friends!
IceInSpace AstroCamp 2010 only 2 weeks away!
The IceInSpace Astrocamp 2010 (IISAC2010) is now only 2 weeks away.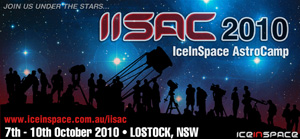 We have some great guest speakers including Professor Fred Watson and serial David Malin Award winner, Phil Hart.
Head to the IISAC2010 Info Page and click the link that opens the booking form. I hope to see you there!
Order your Astronomy Calendar 2011 now!
We still have plenty of the Astronomy Calendar 2011 by Astrovisuals for sale. The calendars are only $18 each (includes postage within Australia), and you can get a 10% discount if you order 2 or 3 in the same order.
Benefits of ordering your calendar through IceInSpace:
Low cost (10% discount if you order 2 or 3 in the same order)
Delivery to your door (within Australia)
You support IceInSpace!
IceInSpace stickers included free (while stocks last)
Find out more, and place your order from the Astronomy Calendar 2011 Info page.