Updates in this Newsletter
Astronomy Calendar 2018 - Now Available
Goodbye Cassini
Apologies for the lack of updates
Computers destroyed by hurtling them into planets
* Astronomy Calendar 2018 - Now Available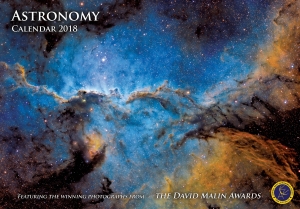 The
Astronomy Calendar 2018
is
now available for sale
via the IceInSpace Shop!
The Astronomy Calendar this year features the winning images from the "David Malin Awards 2017", Australia's premier photographic competition for amateur astronomers. The 12 images featured were the winners of the major categories, plus others that received honourable mentions.
The Astronomy Calendar 2018 provides a nightly guide to what's visible in the sky, including moon phases, planetary positions, eclipses and meteor showers. The calendar features nightly moon phases and Monthly Star maps, plus a summary of the year indicating best time to view the planets. Size: 23 x 33cm, opening to 46 x 33cm.
SAVE:
Order 2 or more calendars and receive 20% off!
The calendar makes a fantastic gift – for yourself, your friends and family. Whether they're hardcore amateur astronomers, have a casual interest in the night sky, or just like looking at pretty pictures, this calendar will be a great addition to any wall, kitchen cupboard or workplace cubicle.
Order online here:
Astronomy Calendar 2018
.
Flat rate shipping available within Australia and Worldwide.
* Goodbye Cassini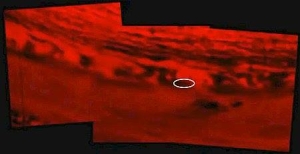 What an incredible mission, what an incredible spacecraft. It's been fantastic to see the press coverage on mainstream media, let alone all over the science blogs on the internet, during Cassini's final days and hours before being sent smashing into Saturn.
This article posted by Suzy on the Facebook page, by
National Geographic
, has some great images and videos. Check out our
Facebook page
for more too.
* Apologies for the lack of updates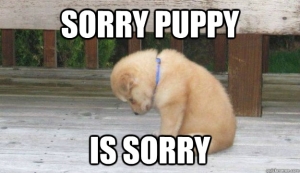 I know I've been pretty quiet around here lately - especially with newsletter updates, website updates and more.
I've just been flat out with work - lots of travel, lots of new production releases, launching new products, trying to hire new people, projects with deadlines, shutting down old products etc..
I appreciate your patience - and I really appreciate the work Suzy and the moderators have been doing both on the IceInSpace Facebook page, as well as on the forums. It just wouldn't continue without them!
I'll be trying harder to allocate some time each week to keep up with what's happening and keeping the website updated etc.
Sorry again - but thanks for your visits, your community spirit etc.!
* Computers destroyed by hurtling them into planets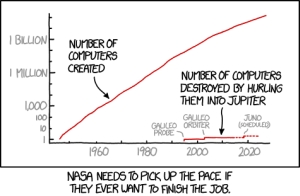 Thanks to Suzy for finding this one and posting it
on the IceInSpace Facebook page

Credit: xkcd
Thanks for reading! Keep looking up!